Earlier this year we bought a console table for our hallway. I used it at a
baby shower
this spring to display favors and had fun
sprucing it up for fall
.
Once I took my fall picture frame wreath down, of course I knew I wanted to do something for Christmas as well. So I turned to one of the 18 Pottery Barn catalogs that showed up in my mailbox this month for inspiration.
I was able to talk Lee into replicating this setup by convincing him that this area would make a perfect bar area for our Christmas dinner party with friends. And he doesn't say no where bourbon is involved.
I bought a long mirror to go over the table (just 30 bucks at HomeGoods) that will stay up all year long (the wall was looking a bit blank before and in desperate need of a mirror or some artwork).
Then I got to work creating my "cheers" letters, which I cut out of the top of a white gift box (I didn't have any poster board on hand) and glittered both the front and the back, since the backs are reflected in the mirror.
I've been watching too much Martha Stewart Show lately, so I was sadly excited about finally having an excuse to glitter something. However after randomly finding glitter all over my clothes, skin and house for four days now, it's safe to say the excitement has worn off (but not the sparkle).
I finished the project off with fresh pine and cedar garland from Home Depot and some red satin ribbon.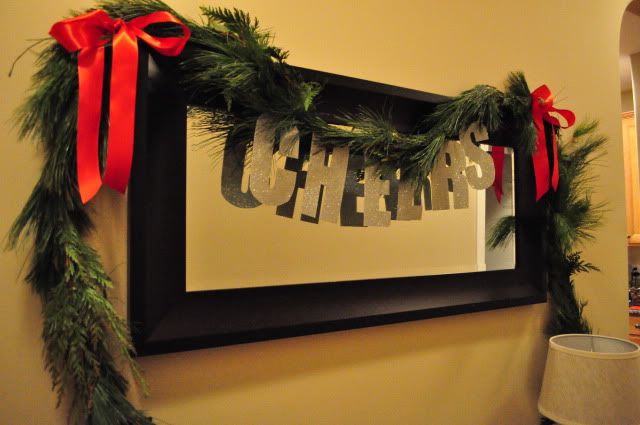 Lee's contribution? His crystal decanter and glasses set.
Can't wait to be pouring some hot toddies here next week!