If you follow me on Facebook, you know that last weekend we stumbled upon our local Restoration Hardware going out of business. While I'm not a fan of the dark, depressing look they've got going on in their stores these days, I still really like their bedding and furnishings.
Everything was 60% off original prices and we ended up walking out with a new king bedding set.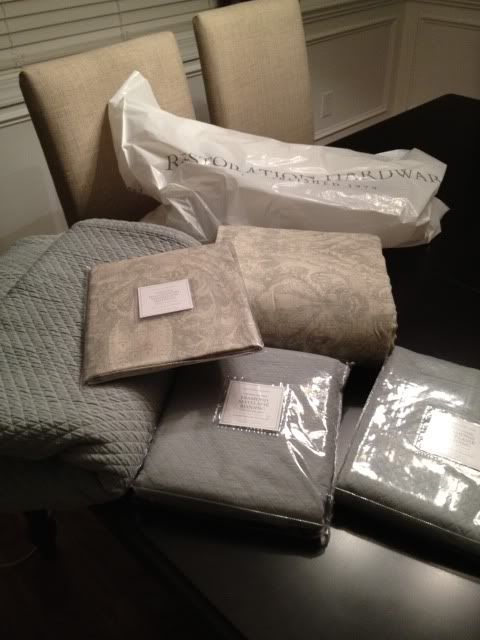 Now, you might be thinking "but you don't have a king bed!" And you would be right. But allow me to explain.
When we did our
bedroom makeover
two years ago, we decided to stick with the furniture we already had. Namely, the queen bed and mattress I had bought for my first "grown up" apartment. "We don't need a king bed!" we said. "We sleep fine in a queen bed, and it's more cozy!" we said. Plus, we didn't want to spend the money.
Fast forward two years. I'm not sure what has changed, but we just don't sleep as good in our bed any more. Elbows are knocking and every toss and turn wakes the other person up. And then there was that one time that Lee smacked me in the face in the middle of the night -- so hard that I cried -- because he said he was dreaming he was catching a baseball.
So we've been scheming on a king bed for a while now. But the main thing holding me back? I invested a lot of money in our queen bedding (also from Restoration Hardware) and couldn't stomach the thought of doing that again.
Cue the going out of business sale! Sucks for them, good for us.
We just couldn't pass up the opportunity to score a king duvet and shams at 60% off. WAY less than we'd paid for our queen bedding, and probably even less than what we'd pay for a lesser-quality, don't-love-it-as-much set from Bed Bath & Beyond or a department store. Plus, we got the coverlet as well, which I'd always wanted for our current bed but couldn't justify the price. At 60% off, I could!
The bedding is not the exact same as what we have now, but it's similar. I'm good with that because a.) I love our current bedding (it's good quality and I love how it looks in our room) and b.) I'm just looking to upgrade the bed, not have to redecorate the room (the current paint and curtains will work nicely, as well as the
bathroom
).
Our plan is to tuck our finds away for now and slowly build up all the other items we still need (king sheets, comforter to go in the duvet, king pillows, etc.). And eventually pull the trigger on a mattress set and bed.
The one thing that's always bothered me about our bedroom is that the furniture is so matchy-matchy. So I definitely want to take this opportunity to go a different route with the bed. I've fallen in love with this headboard from Pottery Barn: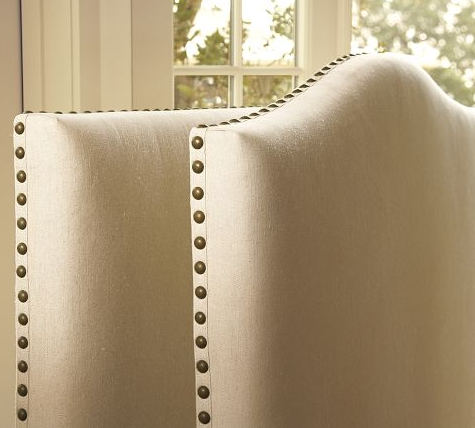 It's even named the Raleigh and is made in NC! But with a mattress purchase coming up, I doubt I can justify the price. There are lots of upholstered headboard DIYs floating around out there, so we might try our hand at that.
I'll be sure to keep you updated as things progress!