We had a few friends over for our annual Christmas dinner party (this year it was an after-Christmas dinner party). We waited until the last minute to come up with our menu but I loved how everything turned out.
My favorite part was putting the "
Cheers" bar
to good use.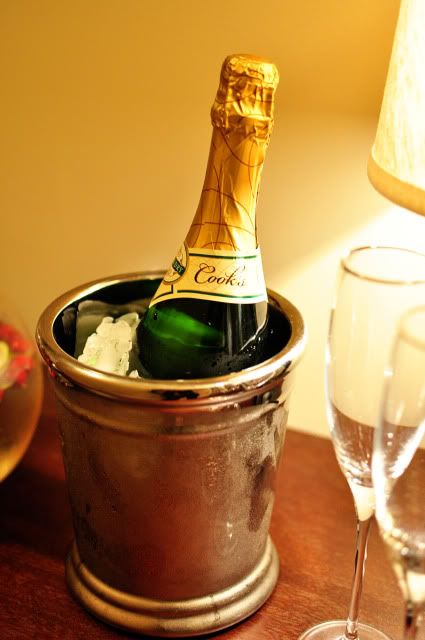 We filled Lee's decanter with bourbon, set out some other bottles we had on hand and chilled a bottle of champagne (I improvised and repurposed a decorative flower pot as an ice bucket). I also made
this
winter white sangria (subbing pomegranate seeds for cranberries).
We snacked on a beautiful cheese plate thanks to the new "W" monogrammed cutting board/cheese tray my mom gave us for Christmas.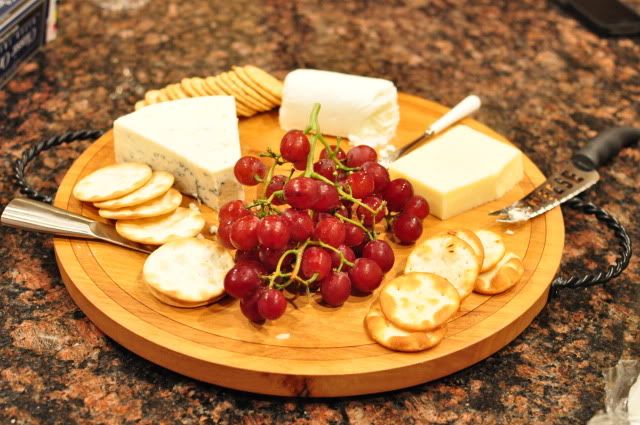 For our salad course, I made wedge salads with iceberg lettuce, chopped tomatoes, crumbled bacon, gorgonzola cheese and ranch dressing. I can tell you this: it did not suck. Wedge salads are totally underrated (or maybe just forgotten?).
Main course was
twice baked potatoes
,
stuffed mushrooms
and
chicken cordon bleu
. This picture doesn't really do it justice but yum-to-the-um.
After lots of chatting, some gift-opening and a little board game action, we served up a chocolate chip cookie skillet topped with ice cream. It was devoured before I could even think to take a picture.
It was a fun night and we can't wait for our next get-together. (Although Cammi probably can.)