One of my least favorite parts of our house is the laundry room, or lack thereof. It's more of a laundry
closet
.
The laundry closet, coupled with a 14-year-old hand-me-down washer and dryer did not make for a happy Megan on laundry day (which seems to be every other day around here).
Here are the befores:
I knew I wanted a new washer and dryer, and wanted to give the room an upgrade in the process.
In an ideal world, I would've knocked down some walls to create my perfect laundry room -- big and spacious with a utility sink and lots of cabinet. But in the space we were dealing with? Yeah, not really happening.
So instead we decided to just remove the closet doors that were concealing the washer and dryer. This area is a tiny room full of doors -- a door from the hallway, a door to the garage, two closet doors, and a door to the powder room. WAY too many doors that were constantly banging into each other. Removing the closet doors would give us easier access to the washer and dryer, but since we still have a hallway door that separates the room from the inside of the house, we could close out the noise when necessary.
I'd had my eye on a nice shiny pair of front loaders for a while, and after we came back from Australia we decided to make the plunge. Of course, one thing led to another as it always does with a "simple makeover" and we ended up painting, adding cabinets, and upgrading the fixtures in the powder room. Here's what we ended up with: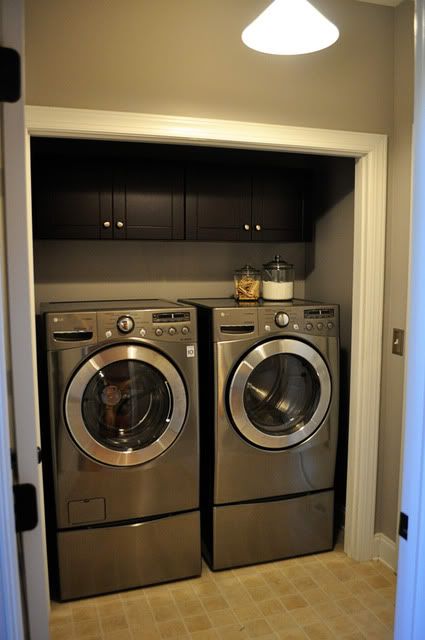 We painted over the builder beige with a gray to complement the stainless steel washer and dryer. And the bronze light fixture was replaced with a stainless pendant from Ikea for a more industrial look.
Because we were removing the doors and the area would now be open, we wanted to replace the ho-hum wire shelving with cabinets to conceal laundry and cleaning supplies. These came from Home Depot.
Now, about the washer and dryer:
After shopping around, we decided on this LG set and found the best deal at HHGregg.
After lots of hemming and hawing we decided to get the pedestals as well. I knew I wanted them, because I didn't want to be bending down, but they are crazy expensive, to essentially be nothing more than an empty drawer. We thought about DIY'ing a platform like some other savvy bloggers have done, but the manufacturer pedestals are specially built to hold 10 ton washers that spin at 200 miles an hour. Lee was not confident that he'd be able to build something that wouldn't let our pretty new washer and dryer down (literally).
Although the best deal was at HHGregg, we were able to talk them down another $100 on the washer and dryer (from $999 each to $900 each) and from $229 each on the pedestals to $200 each. (Did you know you could negotiate at HHGregg?! That's why I love that place.)
Fast forward to a week later: the washer and dryer have been delivered and installed and I'm in love.
Then Lee is in Best Buy and sees the SAME SET, for $645 each.
Oh no they DIDN'T.
We checked HHGregg and Home Depot, and the set had been lowered everywhere, across the board. Fortunately, HHGregg has a 30 day price guarantee. If the price of an item drops within 30 days, you can get a refund for the difference.
So, we quickly marched ourselves back down to HHGregg. By this time, it's getting close to Thanksgiving and Black Friday ads are out, but it's still a few days away. Their Black Friday ad was advertising all pedestals as buy one, get one free. I found a very nice manager, who was able to refund us the difference on the washer and dryer AND give us the Black Friday pedestal deal.
We saved so much money (over $700) that I didn't feel one bit guilty about picking this bad boy up, which we'd had our eye on for months:
(Of course, I also negotiated the Black Friday price on this as well, so we got our beloved Dyson for Black Friday-cheap, without all the getting-up-at-4am nonsense.)
Have I always thought that spending that kind of money on a vacuum cleaner was ridiculous? Yes.
Then we got a dog.
One who sheds. A lot. And has her daddy
wrapped around her paw
so tight that she pretty much lives in the house full time now.
So we invested in the Dyson Animal, and it has not disappointed. This vacuum cleaner is one bad mama-jama. You would be disgusted with the amount of dirt and dog hair it picks up. Me? I am in LOVE.
So there's the epic tale of our laundry room makeover. Sorry it took me so long to finally show it to you. But I had to get everything just right -- you know, like the canisters filled with laundry detergent and clothespins that I'll never use.