Shortly after I got pregnant, I posted about how
our house was changing already
.
Needless to say, the changes have continued. In the interest of keeping it real, I wanted to document the various areas of the house that have been taken over by baby.
*Disclaimer, these pics were taken a few weeks ago, so some things are different already. And making room for Christmas decorations has forced use to move things around even more.
Let's start with "command central":
Because Ava's nursery is upstairs and we knew she'd be sleeping with us downstairs in our bedroom for the first few months, we set up the pack and play to avoid traipsing up and down stairs with a baby in tow 27 times a day. She never slept here very much, we mainly use it for the changing table. We also set up her hamper and diaper pail here. So basically, we didn't use her nursery at all for the first couple of months. Her Mamaroo (swing-type device) also lives here as well.
This is what my nursing station looks like:
Water for keeping hydrated (always!), bulb syringe for boogies, Boppy, burp cloth, phone for entertainment while trapped under a nursing baby, and pump.
Bassinet and Sleep Sheep set up in the bedroom:
And bouncer/rocker in the bathroom (I wouldn't be able to take a shower without it):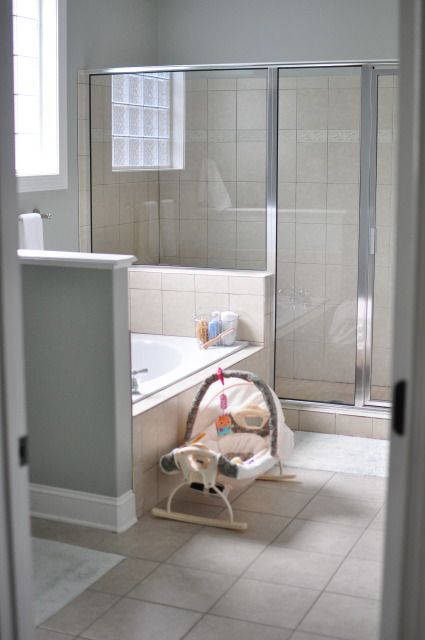 Our dining room table always looks something like this (minus the fall centerpiece):
Laptop, paperwork, bills, mail, magazines I'll never have time to read, Ava's baby book.
Also in the dining room -- parking area for strollers and car seat: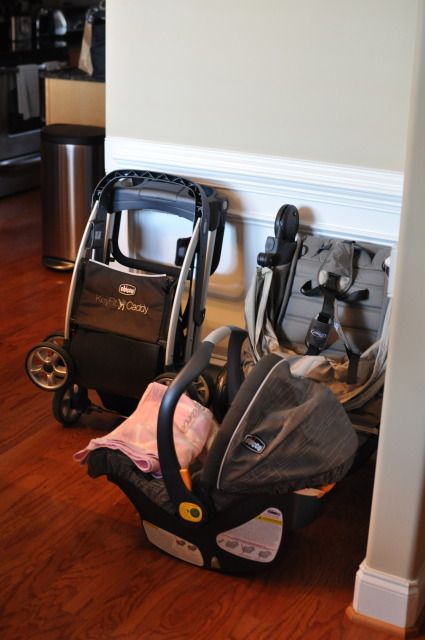 Moving on to the kitchen -- dish washing/drying area:
Milk storage in the freezer:
And you can always find multiple bottles of milk in the refrigerator.
Finally, Ava's nursery.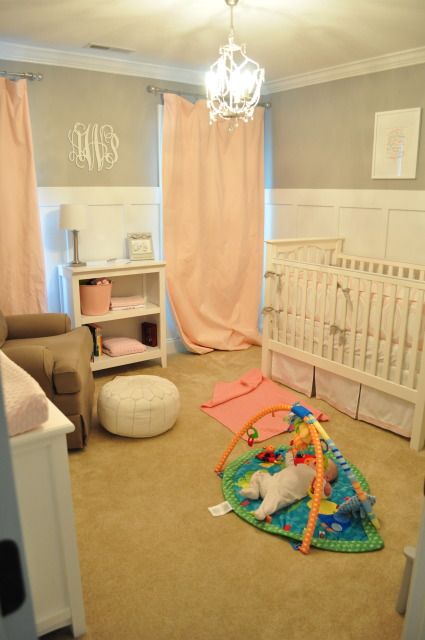 Sure, it's still beautiful, but now it normally looks like this: curtains drawn, playmat and blanket down on the floor for play time, and thankfully, a cute baby!
The bassinet and pack and play will be put away soon, but we'll be adding a high chair, exersaucer, toys galore, and who knows what else. My clutter-hating, OCD self is handling things well so far, but I'm relatively certain this is only the beginning!