Back in January, I told you about my "for fun"
goals for 2011
. Now that the year is over halfway gone, I thought I'd check in and let you know how I'm doing so far.
If you need a little refresher, here's my list: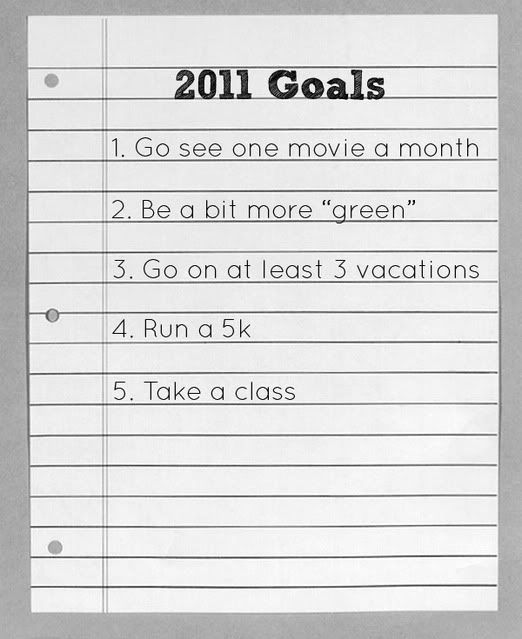 1. Movies.
I'm doing pretty good on this so far. I haven't made it to the theater every single month, but I went twice last month and watched a movie at home when I didn't make it to the theater. In case you're interested, here's what I've seen:
January -- Black Swan
February -- No Strings Attached
March -- Love & Other Drugs (at home)
April -- Water for Elephants
May -- Pirates of the Caribbean: On Stranger Tides
June -- Life As We Know It (at home)
July -- Friends with Benefits and Crazy, Stupid, Love
After writing these out, I feel quite ashamed to have paid $8 (plus popcorn) to see both No Strings Attached and Friends with Benefits, which share pretty much the exact same plot line. I saw them both with my sister though, so I'm not totally alone in my lameness. My favorite pick by far? Crazy, Stupid, Love. If you haven't seen it, you should remedy that.
I've already got plans for my August movie to be The Help. I adored the book but am preparing myself that the movie will never be able to fully live up, although I've only heard good things about it so far. (And it goes without saying that November will no doubt be my yearly dose of Edward and Jacob.)
2. Being green.
Doing good here as well. I'm recycling more and more each month. I started with just the obvious bottles and cans, but am quickly learning about all the different things that can be recycled. And I really like that our trash can fills up less quickly since half of what would normally have gone in there is now in the recycling bin.
3. Vacations.
Done and done and almost done!
Cruise
in the spring was a success,
beach trip to Topsail
in the summer was a success and we've booked a trip to Mexico for the fall. We're going back to the
resort
we went to on our honeymoon (also known as heaven on earth) and we couldn't be more excited. Counting down the days.
4. Run a 5k.
And here's where things fall apart. I've done absolutely nothing to prepare for a 5k, sign up for a 5k, research 5ks, or even do much running/walking period. It's been way too hot this summer to get outside and when I'm in the gym I've been having way too much fun with Zumba and other classes to face the monotony of the treadmill. I'm optimistic though that the cooler fall weather is going to get me motivated and maybe I can still make this happen in 2011.
5. Classes.
I did take tennis lessons from the Holly Springs rec department in the Spring. I played tennis in high school, so I know the basics and can hold my own for the most part. This class was a little basic for me, but it at least provided the opportunity to get on the court once a week and hit some balls, which was my goal.
And guess what else, y'all? I also signed up for this awesome cake decorating class! Ok,
so we know how that turned out
. A hilariously frustrating adventure it was. A "class" it was not.
And I still really want to take an intermediate photography class this year, so I'm working on making that happen. We'll see.
Ok, so there's my progress. Think I can keep it up until the end of the year? And make #4 happen? I'll be sure to update you in December.
How are you doing on your resolutions for the year? Any goals you've accomplished lately, either serious or more fun, like these?