A few months ago I spotted a Groupon for an "all-day cake-design workshop." This was the description:
Before cakes, the only vehicle for frosting consumption was the bare hand, and the only place to load frosting onto that vehicle was the neighborhood frosting bucket. Eat frosting the evolved way with today's Groupon: for $110, you get a spot in an all-day cake-decorating workshop from Cafe Liardi (a $250 value). The workshop will be held at Marbles Kids Museum on Saturday, June 11 from 10:30 a.m. to 4:30 p.m.

Cafe Liardi's cake-decorating workshops fulfill frosting fantasies with explicit instructions for turning humdrum baked goods into towering masterpieces. Throughout the six-hour Saturday session, owner and Chef Gailyn Gagliardi walks students through the basics of design, such as forging fondant adornments, gum-paste flowers, and icing subliminal messages, as they design their own three-tier cake. After production, each student leaves with a recipe booklet crammed full of Chef Gagliardi's confectionary secrets, as well as their completed cake in a complimentary carrying case. In addition to a wealth of sweet knowledge, Cafe Liardi supplies a continental breakfast, gourmet lunch buffet, and in-between snacks to keep charges' energy up and ensure steady-handed misspelling of frosting-scrawled congratulations. Call or email Cafe Liardi to confirm dates and reserve a spot.
(By the way, while some people love them, Groupon's descriptions infuriate me. No need for all of the fancy copywriting, just tell me what I'm getting.)
Anyway, I thought this sounded awesome. Something fun that my mom and I could do together. I ran it by her and she was in. Her birthday was right around the date of the class, so I purchased one for each of us.
The day of the workshop rolled around and we arrived at Marbles Kid's Museum ready to get our cake on.
There were early warning signs that this might not be the magical cake decorating experience we were hoping for:
We were crammed in 6 to a round table -- how are we going to roll out our fondant with no work space?! (yeah, no rolling of fondant was going to be happening)
There were over 100 people in attendance -- how can you get the instruction and interaction you need to learn a new skill with this many people? (answer: you can't)
The "supplies" we were provided with to cut, stack and frost our sheet cake? Styrofoam plates, a huge tub of buttercream icing from Sam's Club and a plastic picnic knife. (I kid you not.)
We trudged through the morning session, cutting, stacking and "dirty icing" our cakes. Some people were already starting to complain that this wasn't what they were expecting out of the class. I tried to be optimistic and give the instructor the benefit of the doubt.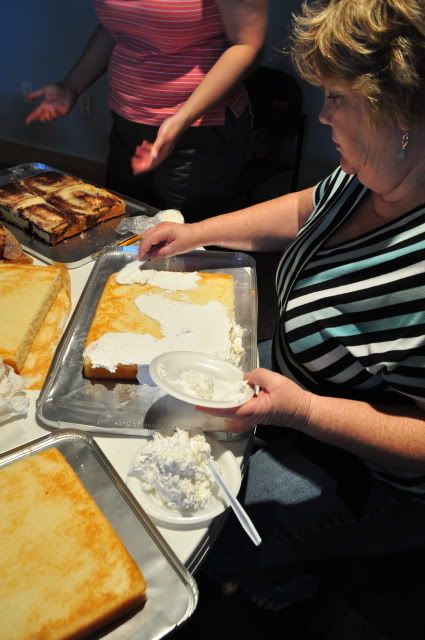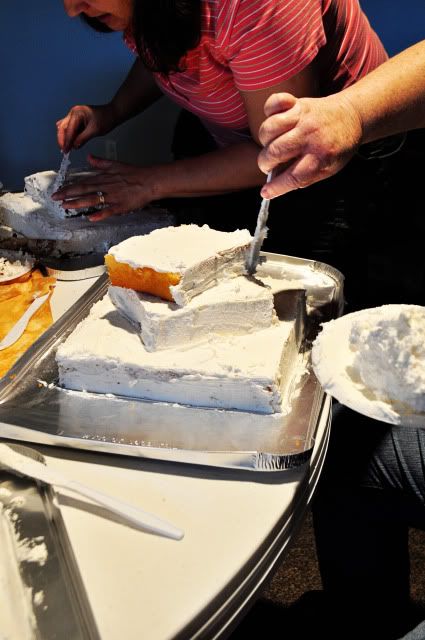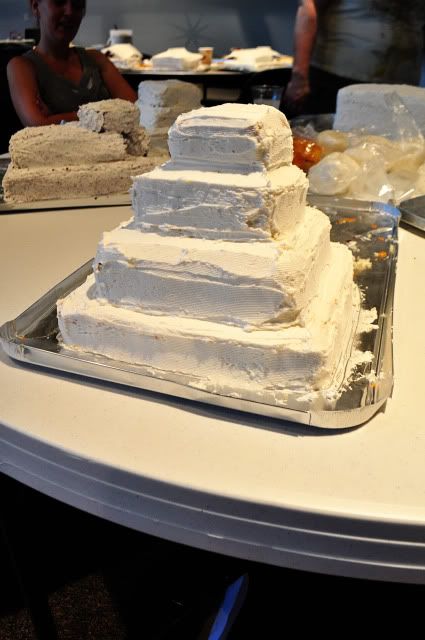 Then lunchtime came around. I was looking forward to the "gourmet lunch buffet" we had been promised -- it was one of the reasons I was willing to pay $110 each for this workshop, because we'd be getting a yummy breakfast and lunch out of it (the workshop was put on by a catering company after all). But this lunch was "gourmet" only if you consider mixed greens with store-bought bottled salad dressing (Wish Bone brand, if you're wondering), bland flavorless pasta salad, and chicken with an unidentifiable sauce to be gourmet. I, my friends, do not.
We had been promised that after lunch we'd be able to go back over our cakes with another layer of frosting that would clean them up and make them look great. Yeah, not so much. As everyone tried to slather on more icing with a serrated plastic picnic knife in an attempt to salvage the cakes, the instructor moved on to fondant and gum paste decorations.
We were given packages of white pre-made fondant and gum paste. We were to use food coloring to color the fondant and gum paste -- except they provided writing icing (the tubes you buy in the grocery store) to "color" our fondant and gum paste instead of actual food coloring.
And the gum paste bow that the instructor demonstrated for us? It looked like this:
I'm pretty sure I could have done better at seven years old.
By this point there is a room of 120 creative, crafty, pissed off women who have paid $110 to make a cake that they could have done a much better job on at home with the proper tools and absolutely no instruction. Women are yelling at the instructor, the instructor and her assistants are getting flustered, and the conference room is a mess of powdered sugar and frosting.
All of the attendees are complaining amongst themselves and discussing how to get their money back. People start leaving, trying to salvage what's left of their wasted Saturday. There are abandoned cakes lying around everywhere:
There were some very talented women at this workshop (some who decorate cakes for a living and just came for fun) and NO ONE was able to leave with a presentable cake. The resources were just not there.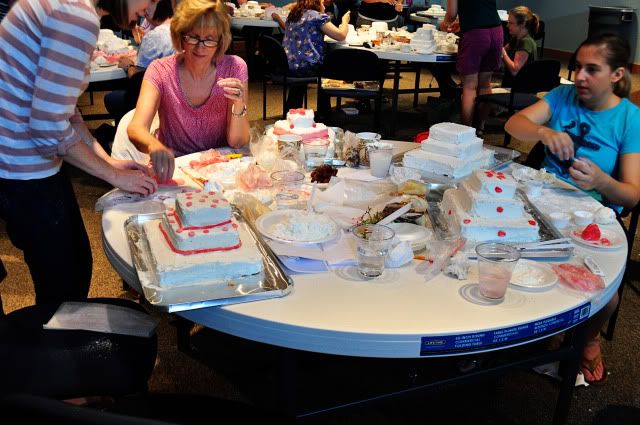 My "finished" product:
The "recipe booklet crammed full of Chef Gagliardi's confectionary secrets" were these pitiful cards: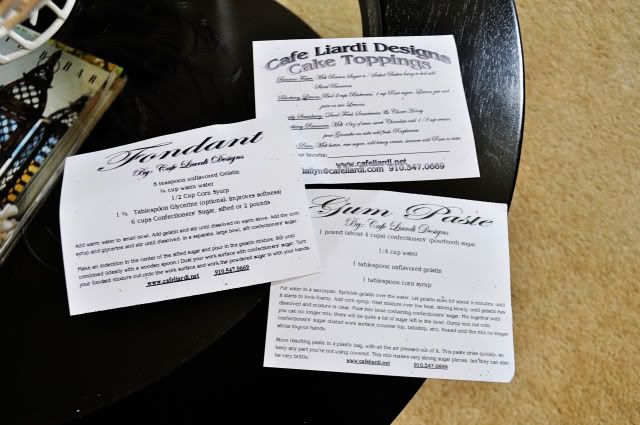 And the "complimentary carrying case" was a cardboard box: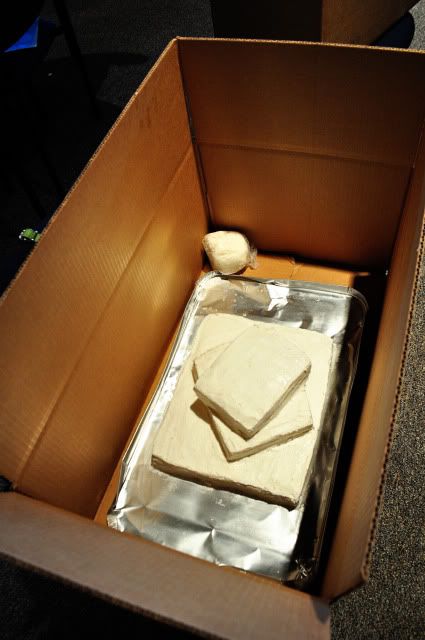 The workshop was meant to last until 4:30. We only made it to 1:30.
So, you live and you learn. If you ever hear the name Chef Gailyn Gagliardi or Cafe Liardi in Burgaw, NC, run as far as possible in the opposite direction. I think she meant well, but she was totally unprepared and in over her head.
However, I have to give Groupon props. I emailed them at 5:00 that Saturday afternoon and had a response within 20 minutes saying "no problem" and that my money would be refunded in full.
Mom, I am sorry your birthday present was such a bust. But at least we have a good story to tell now and we got some cake out of it (the cake actually was pretty delicious).