Our backyard has been feeling the love lately. Even though the grass back there is already dead as a doornail (due to the end-of-spring drought and 90+ degree days) we've got a lot going on back there.
Up first, the garden.
What we've already been enjoying: basil, cilantro, oregano, rosemary, jalapenos, bell peppers, cucumbers, roma tomatoes
What's getting very close: squash, better boy tomatoes, grape tomatoes, peas
Who knows if it'll ever be ready: zucchini, beans, watermelon (very ambitious considering our space)
I already showed you the rose bushes and grapevines we planted next to our neighbor's fence (just looking back at that picture shows me how much they've grown already!), but we decided to put in a little mulch bed around the area.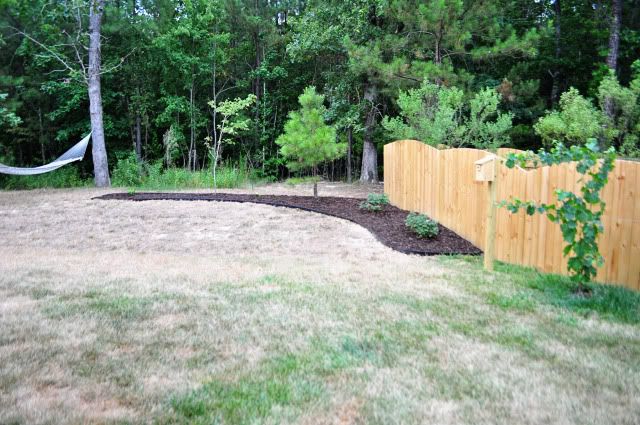 As you can see, we've found it impossible to grow grass up on the berm, so Lee thought creating a mulch bed up there might alleviate a little bit of the dead-grass ugliness.
He also snuck in a birdhouse on the grapevine post (even though he's well aware of my bird phobia).
Up next is the outdoor sink Lee built.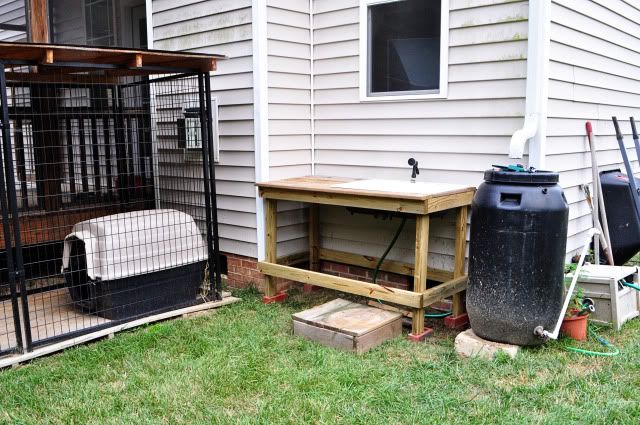 (Please ignore the dirty house and rain barrel. Someone has a date with the pressure washer.)
I'm not really sure what it's for (planting, washing out dirty things, cleaning fish?) but I'm thankful for whatever yuckiness it keeps out of my kitchen sink.
I asked Lee to do a guest post on how he built it but he declined. All I know is that he scored the sink for free at Habitat ReStore -- on the day he went there looking for a sink, there was a sink outside in the "free" pile (and as he says "there's never anything good in the free pile!"). He already had some leftover decking that he used for the top of the sink, so the only expense was the 2x4s for the legs. And as you can see, it's just a water hose that provides the water, nothing fancy.
Finally, we replaced the random stepping stones we had leading from the patio to Sugar's kennel (that I have to traverse every morning), with a walkway to match the patio.
We realize this path to nowhere might not make much sense for future buyers, so we might one day extend it to wrap around to the sink or continue it so that it's a second level/extension of the patio.
So that's what we've been busy with outside -- and by we, I mean 90% Lee, 10% me (it's just too darn hot out there).