We had a nice weekend at home this weekend.
It started out with a trip to Home Depot for gardening supplies and dinner at Moe's (our typical Friday night date -- a trip to Lowe's/Home Depot/Walmart/etc).
I stopped at Trader Joe's for some staples for the weekend while Lee went home to unload our Home Depot purchases. When I got home, he had an excited look on his face and said "I have something to show you."
That something was this: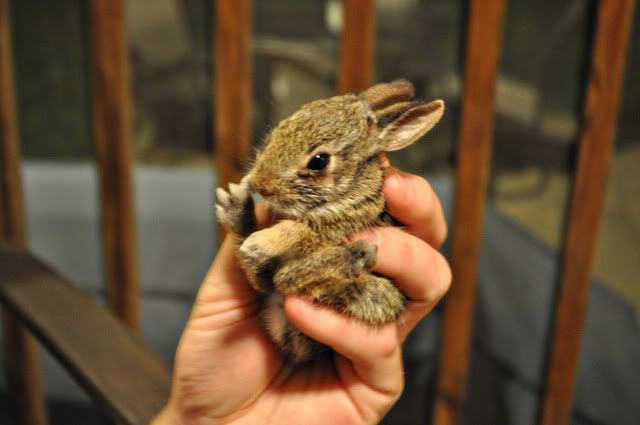 He had found this little baby bunny in the yard and scooped him up. We had fun introducing the bunny to Sugar to see her reaction. Her reaction basically was: I want to eat him!
Of course, we didn't let her eat the bunny, and Lee safely transported him back into the woods.
Saturday was spent working in the yard -- Lee building a trellis for his grapevines and me planting two rose bushes. The fruits of our labor:
Not much now but when the roses are blooming and the grapevines begin to grow this should be a nice little section of the yard.
Today we had reservations to go zip lining at
ZipQuest
in Fayetteville. I had been hearing good things about ZipQuest last year but was not excited about the $79 per person price. Even though there are 8 zip lines, 3 suspension bridges, and the full tour lasts 2.5 hours, I wasn't sure it was worth $158.
So when a Groupon came along just before Christmas with a deal for two for the price of one (2 people for $79), I snatched it up and stuck it in Lee's stocking. We decided to wait until the weather got warm, and finally made our reservation this week.
We got there and suited up:
(These are all iPhone pics/videos, since taking a big honkin' camera on the course was not happening.)
Our guides ran us through some quick training and then it was time to zip: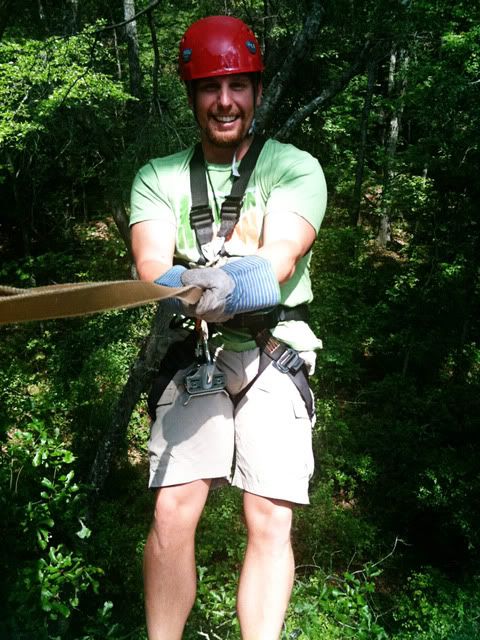 One of the suspension bridges:
One of our guides with Carver Falls in the background: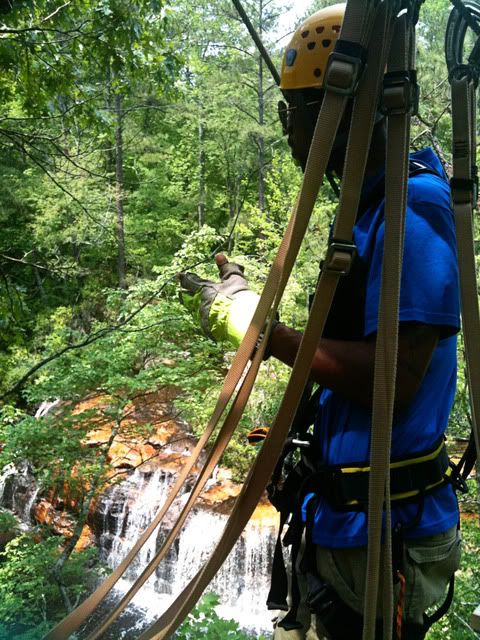 Lee setting off on the last zip of the day:
I gotta admit, I was pretty skeert jumping off on some of zips as they got faster and we got higher and higher, but it was definitely fun and we had perfect weather. Nice to be out in the treetops on such a beautiful day.
And the perfect way to cap off a nice weekend? This:
Hope you had a great weekend too!