Last week I made a quick trip up to Chicago to attend a conference for work.
It was my first time in the Windy City and I was all on my own.
In an effort to pack light, I decided to leave my camera at home and rely on my iPhone. So here's a little bit of my trip in pictures.
View from my room:
A little sightseeing at the "bean statue" in Millennium Park:
The conference I attended was the "School of Word of Mouth" put on by the Word of Mouth Marketing Association. It was all about spreading your brand via word of mouth, both offline and online (via social media). Since a social media presence (Facebook or Twitter or both) is a must for almost all of our clients, it was a great conference that I'm glad I got to attend. Lots of great case studies, best practices and helpful takeaways.
One of the sponsors of the conference was Crayola, so there was no shortage of doodling:
The second day of the conference wrapped up around 4, so I was able to get out and do a little sightseeing and shopping.
View from the Michigan Avenue bridge: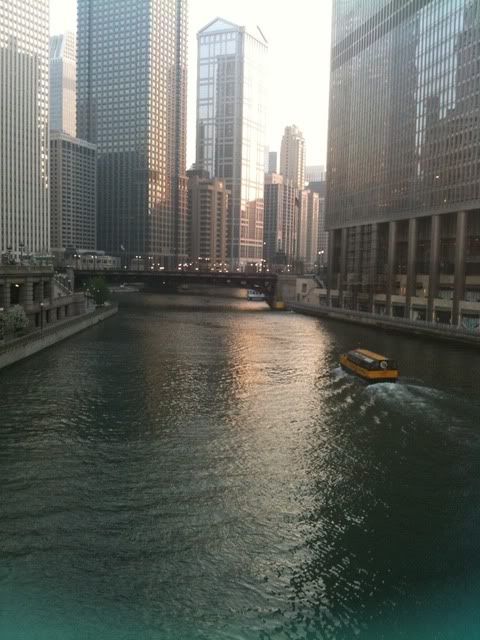 Michigan Avenue / Magnificent Mile:
I did some shopping looking on Michigan Ave (Kate Spade, Tory Burch and Bloomingdale's, anyone?) and then stopped for some Chicago-style deep dish pizza at Pizzeria Due.
And of course, I had to pick up some Sprinkles cupcakes for the road: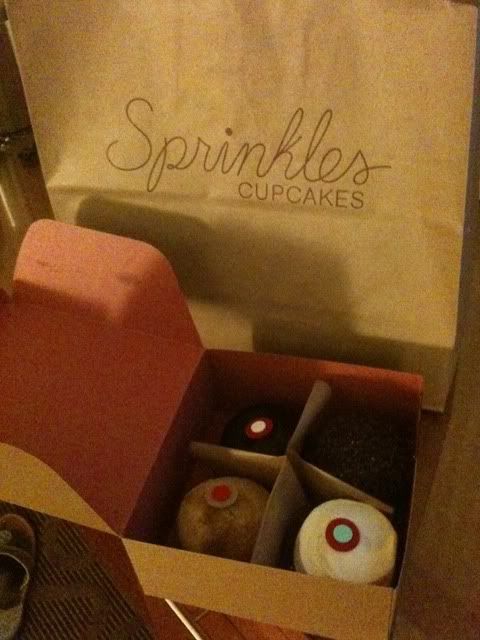 (Cinnamon Sugar, Chocolate Marshmallow, Peanut Butter Chip, Red Velvet)
They didn't look this pretty by the time I got them back to NC, but they definitely still tasted good.
Speaking of getting back to NC, what.an.ordeal. My flight was originally delayed 30 minutes, so I passed some of the time with a nice dinner at the airport Macaroni Grill:
Then my flight was delayed an hour and a half, and finally two full hours. We finally board two hours late and passengers and flight attendants spend 30 minutes wrangling carry-ons into the overhead bins (the flight is full). Just as they're cramming the last suitcases in and checking the ones that won't fit, the bottom falls out of the sky. The pilot says we now can't leave until there's no lightning within five miles.
Finally, the storm has passed and we're able to get on our way. Except not. The pilot now says the flight attendants who've been working all day have now reached their limit of 15 hours and are not legally allowed to continue working. We must all deboard the plane and wait for them to find another crew.
By this time I'm about to lose my shit. I've officially been at the airport for six hours now. I check my phone and see that the 8:45 flight to RDU is on time (it's now 8:35). Can I make it? I decide to make a run for it, except of course this flight is on a whole other concourse. I didn't think I was EVER going to get there. The blisters on my feet from walking around Chicago for two days weren't helping me. My sandals are slapping the airport floor as I'm getting shin splints and trying to speed walk and everyone is staring at my as a loudly make my way to the new gate.
I get there and the flight is already boarded. I beg the person at the counter to PLEASE get me on that flight. He starts furiously typing away and I'm telling him how badly I need to get on that flight and he screams "just let me think!" Deep breath Megan. Within seconds he's got my boarding pass printed and I get on the flight just as they're closing the doors.
The flight is only half full and I settle into a row of my own and thank the good Lord that I'm finally on my way back to NC. I pat myself on the back for taking the chance and making it work. That's probably the closest to the Amazing Race I'll ever get, and I'm quite okay with that.
Chicago, it was nice to meet you, but how about just letting me go home next time without all the drama, okay? Thanks.