Read about my office here, and parts 1 and 2 of the makeover here and here.
I always underestimate the impact curtains can have on a room. Then once I finally get them hung I think "why didn't I do this months ago?" The answer to this is probably that curtains aren't easy and they aren't cheap.
Except for my office curtains. Here is their story.
I knew I wanted the curtains in this room to be bright and fun with some sort of graphic pattern. The likes of Bed Bath & Beyond / Target / Pier 1 were just not cutting it in this department.
So I started researching fabric. But I knew I would need about 10 yards of fabric for four panels, and even with fabric that was $10-15 per yard (never mind the fancy designer fabrics I was drawn to), it was still more than I wanted to spend.
Enter my friend Ikea.
On one of my sacred trips there (the closest Ikea to us is over two hours away), I browsed the fabric section but wasn't able to find anything I liked. The bedding department though? Just the ticket. I found a twin duvet cover in a fabric that I liked (with a small circle pattern in the olive-y/lime green I was looking for).
The length of the duvet was exactly the length I needed, and I figured out that I could cut the width of the duvet in half to create two panels, so I'd only need one duvet for each window. The best part? The $9.99 price tag. So for under 20 bucks, I was on my way to four glorious curtain panels.
Except I got them home and they sat in a closet for four months. And THEN I was on my way.
I sliced each duvet in two and used no-sew iron-on hemming tape to make a nice seam on the one side of each panel that had been cut.
Some inexpensive brushed nickel curtain rods and ring clips from Target later, I was in business.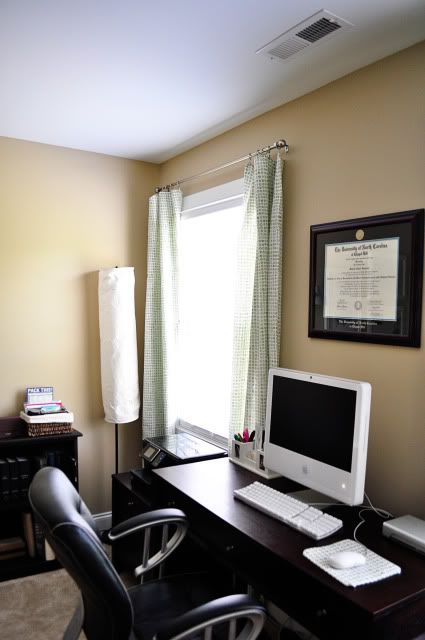 And as a bonus? Each twin duvet cover also came with a pillowcase, so I DIY'ed a custom mousepad to match the curtains (and I still have another pillowcase left over).
I just bought a cheap mousepad from Walmart and used spray adhesive and hot glue to cover it with the fabric.
So there's my cheap and easy curtain story. Tune in next week for some wall art action!