I had a different post planned for today, but instead I want to tell you about a bit of Christmas magic that happened last night.
Lee was outside with Sugar (she somehow got loose and was chasing a rabbit in the woods) and said he saw two shooting stars within a matter of minutes. I threw on some shoes and went in the backyard with them.
Lee wrapped me in his arms and we waited patiently in the cold, quiet night, eyes on the sky.
"Did you make a wish?" I asked. "Yes, I wished that Sugar would come back. And she did."
A few minutes later, a huge, bright star streaked across the sky, right above our house. We've done lots of shooting-star gazing out on the pier at the river, but had never seen one so big and bright (and with street lights around and a nearly-full moon, no less).
I grabbed a blanket and my camera and put on some thicker socks. It was cold, but not unbearable. And surprisingly calm and quiet to be in the middle of a neighborhood.
Some Googling later showed that what we were seeing was the
Geminid meteor shower
, which could produce up to one shooting star a minute in clear areas.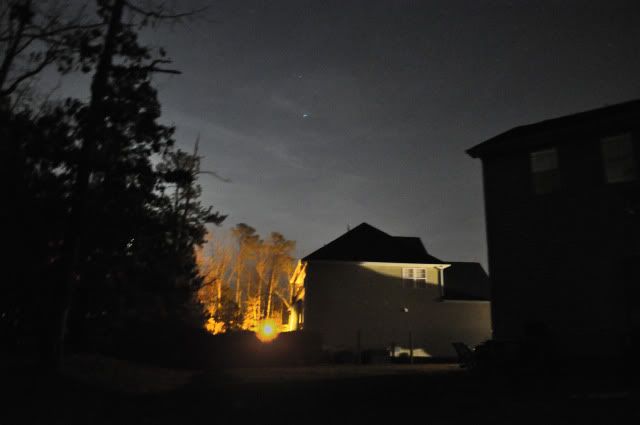 Over the next 30 minutes or so, 4 more shooting stars. All beautiful, all evoking a quick gasp, but none as bright as the first.
Seven stars in all. Seven tiny wishes. Each of them feeling like an early Christmas present from somewhere up above.