Since our holiday decorations haven't changed much from last year (you can
take a look at them here
) I won't bore you with the full tour. But over the 12 Days I will show you a few things that have been switched up or are new this year. First up: our dining table decor.
This switch up came out of necessity. I usually do alternating cylinder vases with pillar candles and pinecones. When I sent Lee out to the backyard to gather the pinecones this year (we live in NC, and the pine
is
our official state tree, so it seems silly to buy pinecones), he came back in with about a fourth of the amount of pinecones I needed. Now whether there really were less pinecones this year or he just got tired of looking, I'm not sure.
But I put on my thinking cap and decided to supplement the pinecones with some bright red and silver ornaments I had left over from years past.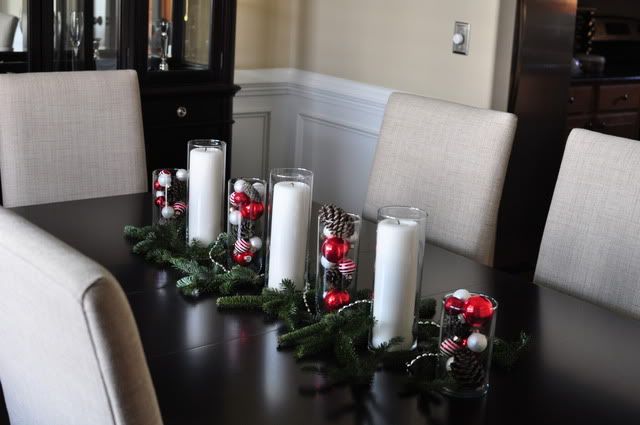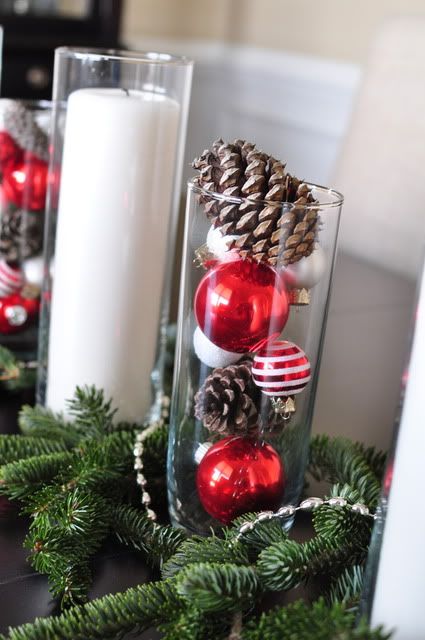 I really like how it turned out. And I'm excited to be able to play around with the red when I set the table for our annual Christmas dinner party, instead of sticking to an all white and silver color scheme.
So what is your table looking like this year? Have you done a color scheme switch up, or are thinking about one? I've decided I want to change up my all-white-and-silver living room with some red next year, so fingers crossed that I score some good after-Christmas deals!