I had way too much fun this weekend getting our house spruced up for fall.
For me, it's always a little hard to know when exactly to decorate for fall. The end of September seems fall-ish but if you buy pumpkins then, they'll barely make it to Halloween, let alone Thanksgiving. Case in point -- my mom bought me a mum for my birthday and by the beginning of October it was dead as a doornail. (Ok, that might have more to do with my lack of gardening skills than the plant being purchased too early, but whatever.)
I had scoped out the pumpkin options at WalMart but decided to wait until after our Mexico trip to make my purchases. But instead of WalMart, we found a cute little pop-up pumpkin patch in the parking lot of our local Harris Teeter. It wasn't exactly a trip to the country, but I still felt better about buying locally and supporting this family-run business (the teenager manning the stand was super friendly and helpful). And even though I expected the prices to be a bit higher than WalMart, they were actually matched pretty much dollar-for-dollar.
Plus, I got the deal of the century on a new mum. I wasn't planning on buying another mum, seeing as I'd already killed one. But as we were leaving the guy said "oh and all of our mums are on sale for $5." I said "all of them?" He said yep. "Even this huge one on display out front (that's twice as big as all of the other ones and is actually probably worth more like $20)?" I had him then. He said yeah sure, why not. I told Lee to pay the man before he changed his mind and he said "yeah you really are getting a good deal on that mum."
So here's what our front porch looks like these days: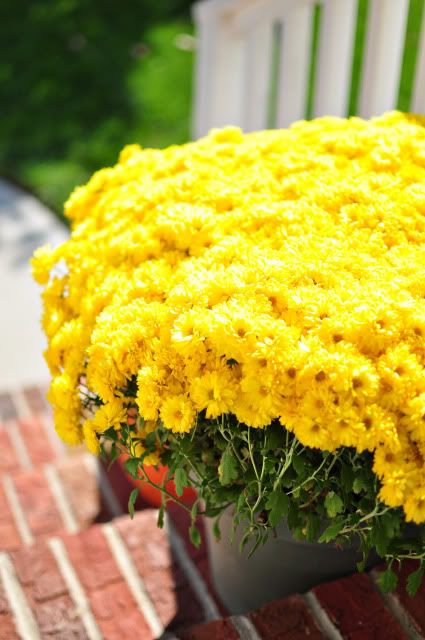 And our dining room centerpiece: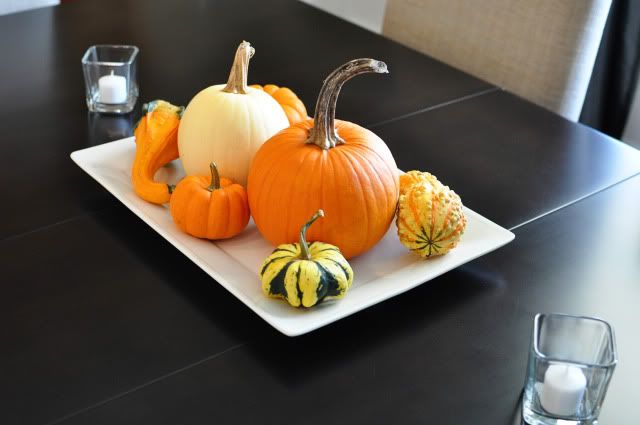 I also decided to get my craft on after some inspiration from Pinterest. I came up with this fall picture frame wreath (and bucket-o-twigs) for our hallway: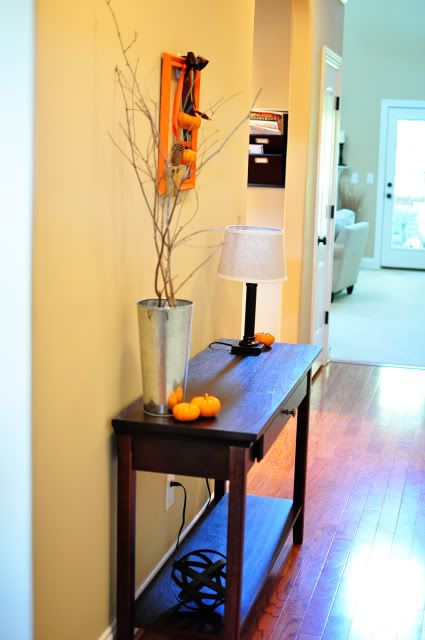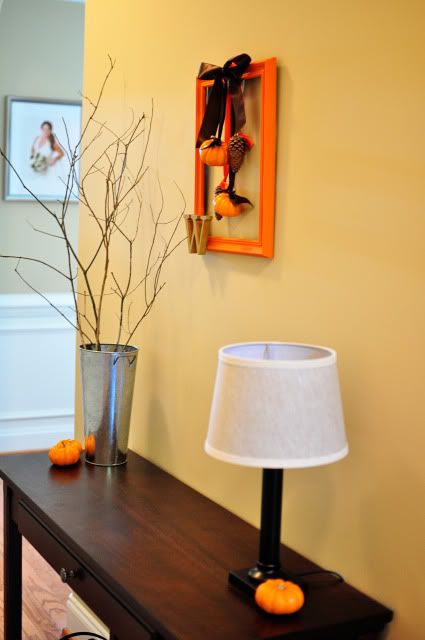 The frame is a cheap $5 WalMart frame (ideally I would have had one lying around to reuse, but I didn't). It was black, so I primed it with white spray paint primer before painting it orange (with cheap craft paint and a paintbrush).
I scavenged pinecones from the backyard (Sugar chewed up the first round of pinecones I had found and carelessly laid on the patio table, so I was NOT a happy camper to have to go back into the woods again. Lee did find it amusing though that I was actually out-of-doors.) The pumpkins are real ones. And the W is a wooden letter from AC Moore painted with craft paint and hot-glued onto the frame.
This was easy-peasy but I so enjoyed getting to flex my crafting muscle a little bit and finding a way to make it all come together nicely. And we never got around to hanging anything above this hallway table after we bought it so I like that that area has a little more going on now. Now I'll have to figure out something to put there for Christmas and then something permanent for the rest of the year.
So what do you think? And when IS the right time to decorate for fall? (I saw whenever you feel like it!)