Our weekend in bullet points:
Started the weekend off early on Thursday night with a fabulous Lady Antebellum concert with my fabulous sister.

Had Friday off, and spent it watching trashy television and catching up with my sis.

Dinner with Erin and Lee on the patio of J&S Pizza in Fuquay on Friday night.

Took Sugar to the Dog Days festival in Holly Springs on Saturday morning. More on that later.

Spent Saturday afternoon whipping our garage into shape (after buying and installing yet another heavy duty shelf in there) so my car finally fits again.

Wonderful dinner with Chrissy and Mike Saturday night at

Tribeca Tavern

in Cary. We had the best seat in the house (front and center on the top balcony), the drinks and food were delicious, and the company was great, as usual.

Spent a lazy Sunday reading, catching up on TV and getting some things done around the house. Lee fixed an awesome dinner of barbecue beef, red potatoes and cabbage.
So, back to Dog Days on Saturday. There were lots of dog related vendors there, along with food and kids' stuff, but what we really went to see was the Carolina DockDogs. Lee had been wanting to go to an event for a while, after seeing a national event on ESPN (must have been a slow sports day that day). Basically, dogs compete by jumping off a platform into a pool to fetch a "bumper". The object is to be the dog that jumps the furthest out into the pool before hitting the water.
As soon as Sugar saw the other dogs jumping into the pool, she was out of control. She said "Hello? I need to be doing that":
We found out that between the competitive heats, you could make a donation and have your dog take some practice jumps off the dock. So we signed her up to see what she could do.
As Lee was waiting in line with Sugar for their turn, lots of other dogs and owners were trying it out. The majority of the dogs would NOT jump in the water. The owner would throw the bumper, the dog would run after it and then freeze when it got to the end of the dock. I'm pretty sure most of the dogs had never even been in water before, so of course they weren't going to jump off a high dock into it, no matter how badly they wanted the toy.
When it was time for Sugar and Lee's turn, I was a wreck. My heart was beating so fast and the camera was shaking. I kept thinking, this is nuts, can you imagine what it's going to be like when we have a CHILD that's about to do some sort of performance? And mind you, the audience of people watching was not big, and most people were only half paying attention anyway.
But of course, Sugar did her thing. Here are her first two runs:
Although she was so wound up from all of the excitement that she didn't want to mind Lee very well, there was NO WAY she was not going in that water. In fact, on two later runs she jumped in BEFORE Lee even threw the dummy in the water. That got a lot of laughs from the audience.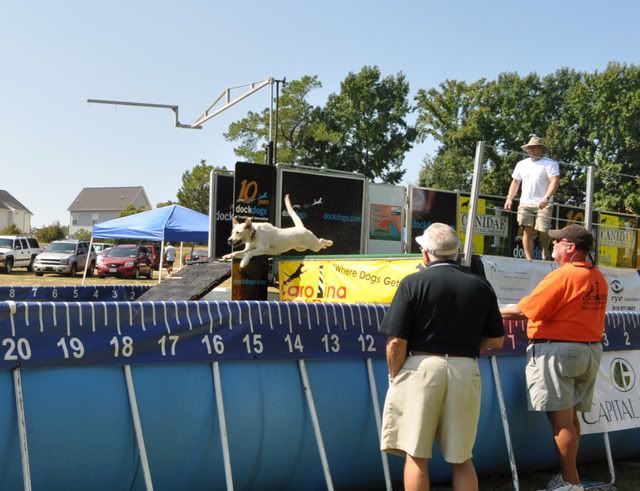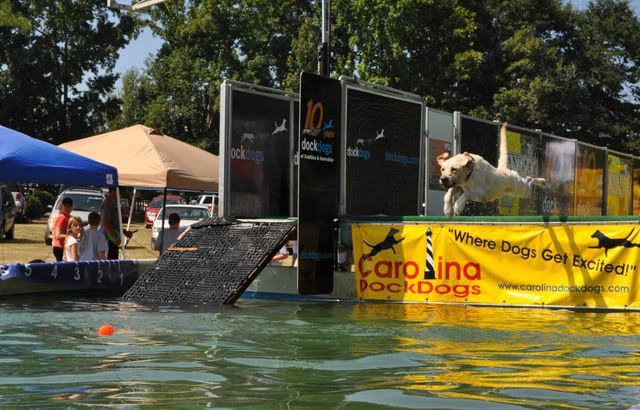 After Sugar was done, one of the DockDogs people came up and said that she was a natural and we needed to start training her to compete. *heartswells* *proudparentmoment*
So, all in all we had a great weekend. Especially Sugar.