As soon as we set our 18 week anatomy scan appointment for the Thursday before Easter, I knew I wanted to have a little gathering to let our families in on the news.
We live about an hour and a half away from both families and didn't want to tell them over the phone (and also deal with the "who found out first?" issue). Plus we wanted to have a little fun with it.
Easter weekend was already packed with lots of other activities and celebrations, so we set our party for lunch on Good Friday. Pressed for time and wanting to keep things casual, I sent out email invitations via Paperless Post.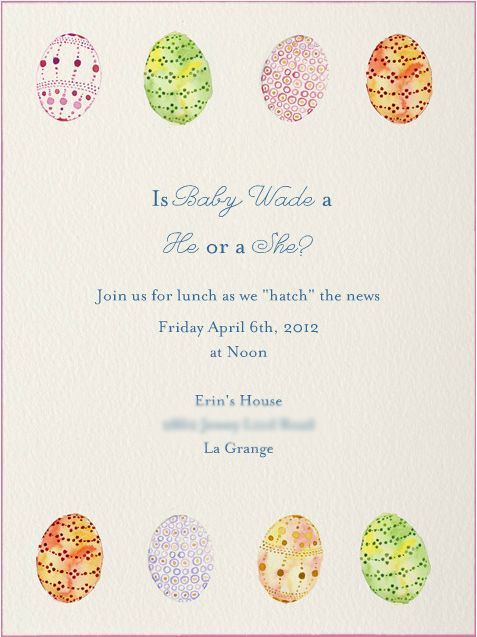 Let me just take a moment to say that I was SO impressed with Paperless Post. So much faster, easier and cheaper than a paper invite (I was able to scrounge up enough credits to send all of my invites for free) and yet so much nicer than a traditional eVite. And from the customizable envelope liners to the animation of "opening" the invite, it's a nice experience for the recipient (at least I think so). Plus I think being able to see the guest list and others' responses is nice too. I'll definitely be using them again in the future.
As I was designing the invitations and planning my decor, I had visions in my head of a lovely Spring lunch in my sister's yard on the farm on a beautiful, sunny Spring day. But as tends to happen on important dates in my life, the weather decided not to cooperate. Rainy, cold and windy was the forecast, so we had to move the party to our church fellowship hall. Oh well.
Lee made me these long planters and I turned to my go-to party trick: growing wheatgrass.
I added pink tulips (blue flowers are hard to find!), but balanced them out with lots of other blue, green and yellow elements. I also created quick and easy burlap table runners with burlap from Joann and tied them up on the ends with ribbon.
For food, we stuck with a Spring picnic theme: chicken salad croissants, fruit salad, mini tomato pies, pasta salad, pimento cheese sandwiches, chips and dip and a nugget tray from Chick-fil-A (yum!). We also served cake a lemonade, but I didn't get a picture.
We had everyone "wear their guess" as they walked in the door.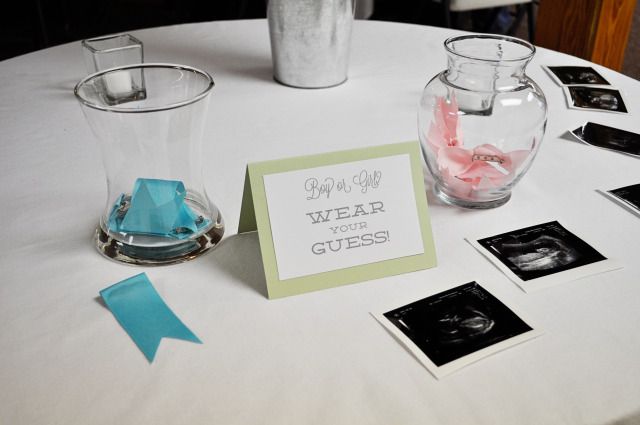 Team Boy:
Team Girl (looking a little lean!):
We made the announcement by passing out Easter eggs with a peep inside to announce the gender (pink peeps for a girl and blue for a boy).
Well, the majority of our guests were WRONG, because Baby Wade is a little
GIRL
!!
Here's a video of the reveal:
Lee and I actually found out on Tuesday. I got paranoid that the baby might not cooperate and then I had this party planned and no gender to announce, so we moved the appointment up to Tuesday but didn't tell anyone (they could barely stand the thought of us knowing and not telling for 18 hours, much less 3 days).
Well, she did cooperate and immediately showed us her stuff, so we had fun having this secret all to ourselves for a few days.
Happy parents: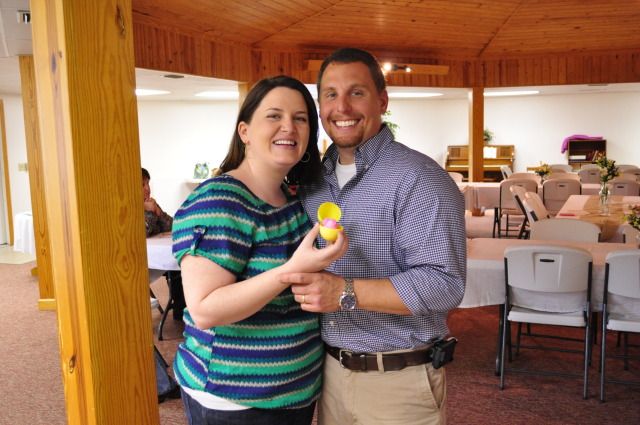 Britt and Erin: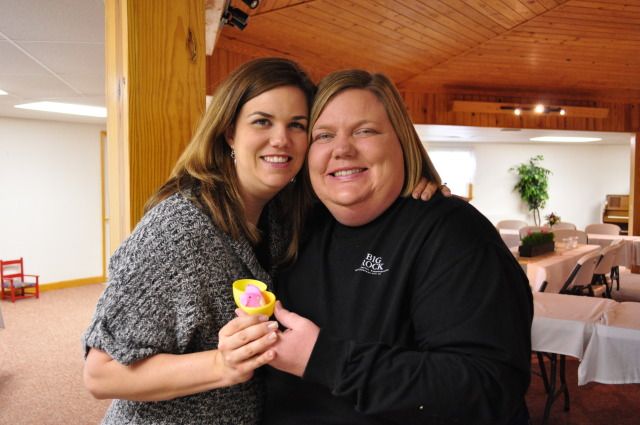 Me, Katie and Erin
And a cute shot of Brevyn, just for good measure.
We had such a fun time celebrating with our families, and I can't wait to start planning for this sweet little girl! More to come soon!