I skipped my 18 week update, but it wasn't by mistake. We secretly had our anatomy scan on Tuesday instead of Thursday, and I just knew if I wrote an update post that night after hearing the news I would mistakenly slip a "she" or "her" in there somewhere.
So now that the excitement of the gender reveal is behind us, we can get back on track.
1. How far along? 19 weeks today.
2. How big is Baby Girl Wade? Either the size of a mango or a large heirloom tomato (random?) That translates to about 6 inches and 8.5 ounces.
3. Movement: I'm definitely feeling her move! It actually started a bit after the 16 week mark. About once a day, while sitting (at work, at the movies, etc.) I would feel what I was pretty sure was a baby flutter. But I was surprised to feel it so early so I was reluctant to say for sure that's what it was. But now I feel her multiple times a day, mostly when sitting but also sometimes when laying too. Nothing strong, definitely faint but pretty exciting.
4. Belly: I'm still in that stage where if you didn't know me you might not be able to tell whether I'm pregnant or just ate too many cheeseburgers. But the belly is definitely getting bigger and my clothing options are getting smaller. Speaking of which...
5. Wardrobe: This is what my once-full closet looks like now, with just the clothes I can still fit in (and some of these are becoming questionable):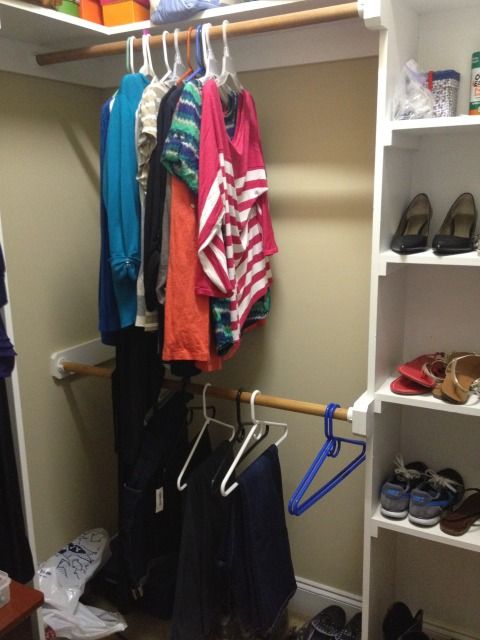 Looks like a shopping trip is in order SOON.
6. Names: I had hoped that once we found out the gender, we'd just "know" what the perfect name was. No such luck. I think we have a few solid options, but I keep second-guessing all of them. Good thing we have some time.
7. Nursery: I actually had lots of boy nursery ideas in mind. Now that it's a girl? I'm totally stumped. And all of the furniture options (and prices!) can be really overwhelming. Looks like I need to be hitting up Pinterest and blogs for some inspiration.
I'm not really sure why, but MTV's 16 and Pregnant has been on in the background while writing this post. Something I'm thankful I
don't
have to worry about in this pregnancy: Will the baby's daddy stick around? (See also: Will I be able to graduate high school? How will I find a job/support the baby?) I guess if my only dilemma is which car seat to choose and whether to splurge on a glider rocker then I'm doing pretty good.