Our last stop in Australia was Brisbane. It's a fairly large city (the third largest in Australia) and therefore had a much different feel than the other places we'd been, what with its skyscrapers, traffic, and constant hustle and bustle.
I've never actually been with Lee to a "big city" before, so I was surprised that he was a little discombobulated by it all. (Isn't discombobulated the best word ever?)
Brisbane is situated on the Brisbane River, which winds throughout the city and provides lots of beautiful water and bridge views. The view from dinner on our first night in town was amazing -- skyscrapers behind us, the river and bridge in front of us (please excuse the crappy iPhone pic):
The view from our hotel room was pretty sweet as well:
And even better at night:
(Yes, we got suckered into paying something like $30 to ride that ferris wheel.)
The main attraction in Brisbane was our visit to Lone Pine Koala Sanctuary.
We got to snuggle and have our picture taken with a koala. This little guy had just woken up from his nap, so he was all cute and sleepy-eyed: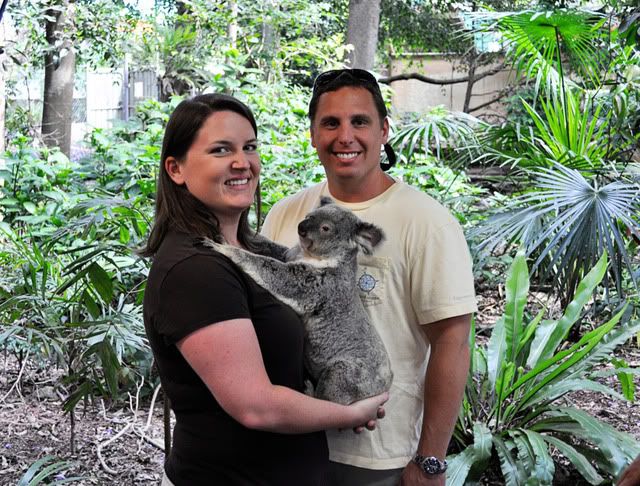 What a poser:
One of my favorite parts was the "mama and babies" koala exhibit. I could have stood for hours watching these guys.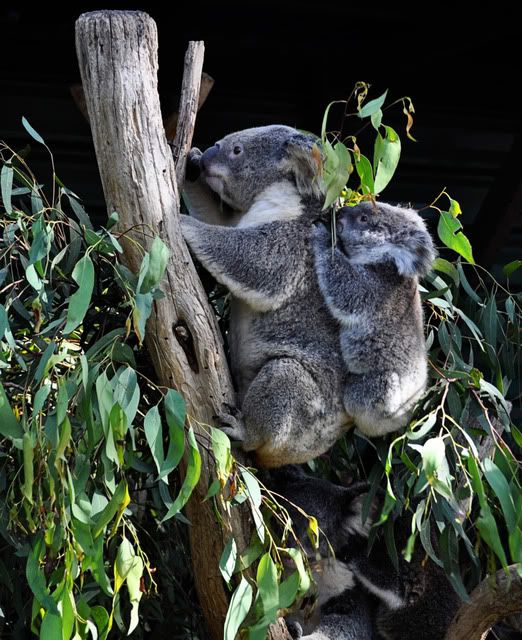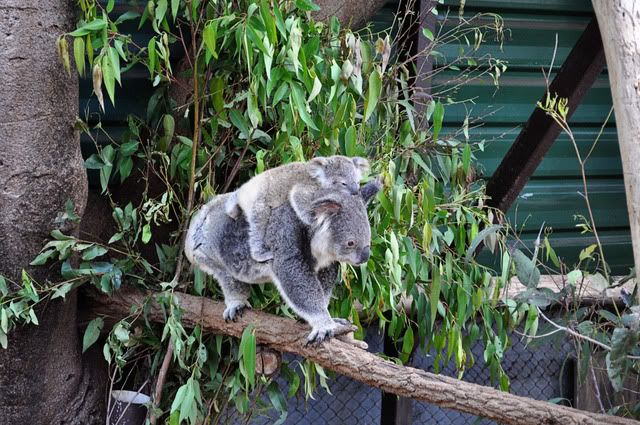 Up next was the Birds of Prey show. I'm still not quite sure how Lee talked me into this one. The trainers got SO CLOSE with the birds.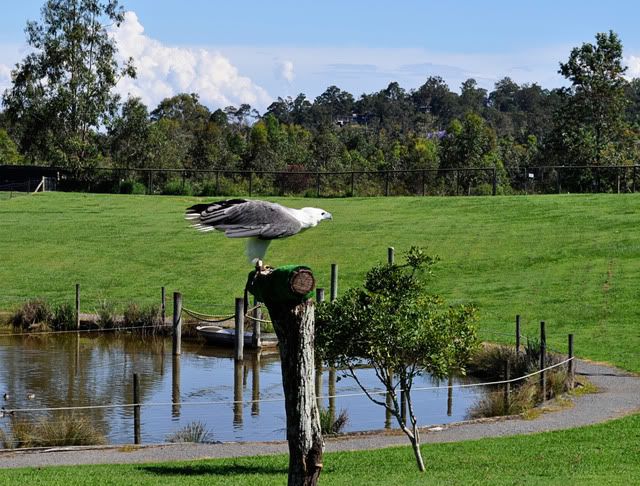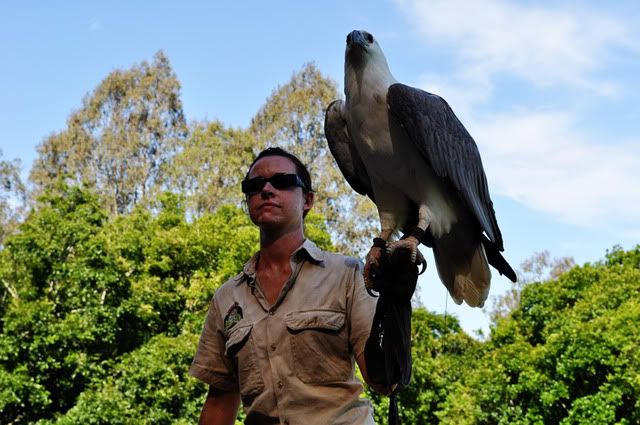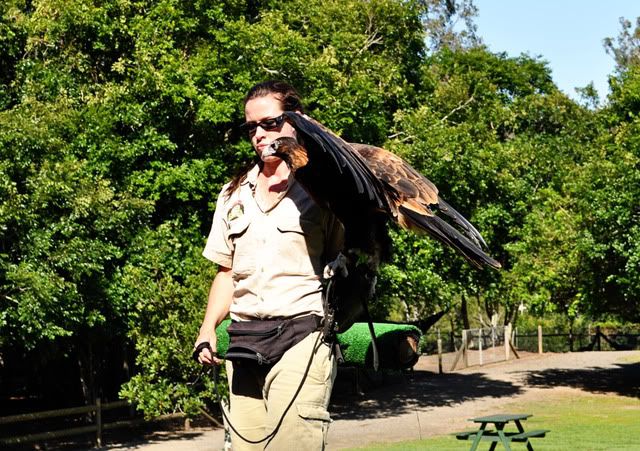 Right after this picture was taken, this owl got spooked by another bird and flew RIGHT AT ME. She swooped over the audience and up into a tree. One of the trainers tried for the rest of the show to coax her down, to no avail.
We visited some other exhibits: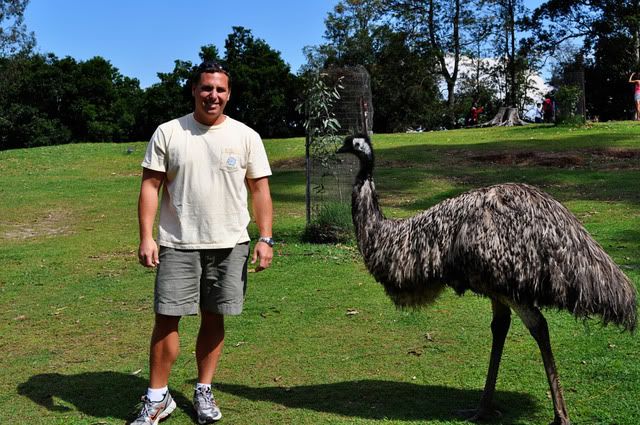 The dingo ate my baby!
In case you were wondering, this is an owl eating a mouse: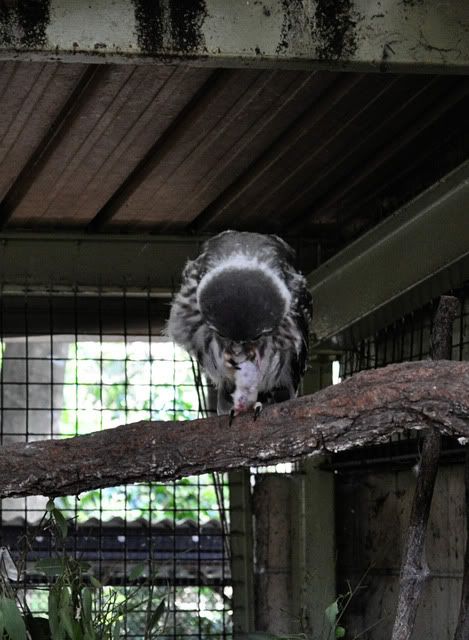 Then it was time to chill with the kangaroos. We bought way too much kangaroo food and then headed to meet them. They were out in a field, most of them sprawled out relaxing. You could go up to them and feed them (although they weren't really all that interested in food), pet them, snuggle them, etc. It was amazing. I didn't want to ever leave.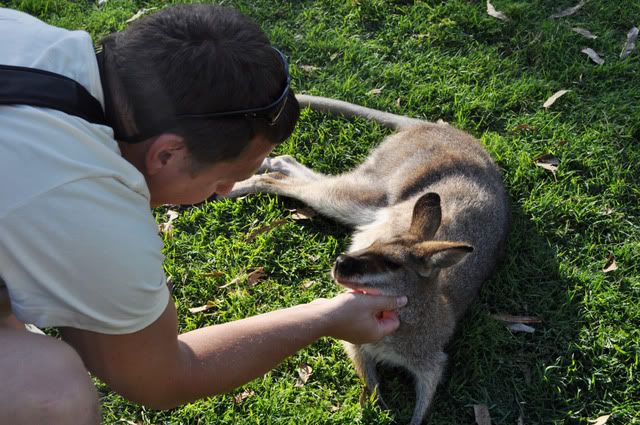 Finally I had to tear myself away, as our tour bus was about to leave us. Our last stop was at Mt. Coot-tha lookout, with an amazing view of the city:
We spent an extra day in Brisbane, chilling and wandering around the city. Then it was time to head back home. To say I was excited about the 36 hours of traveling ahead of us would be a mistake, but we were glad to be making our way back to the good ole U S of A.
Thanks for being patient with me as I shared our trip with you. I've got one more Australia post in the hopper -- a wrap-up of sorts -- and then it's back to standard blog fare.