Our trip began with a 36-hour marathon of travel. From RDU to Dallas, then Dallas to LA, then LA to Brisbane, Australia, then Brisbane to Darwin.
The flight from LA to Brisbane was 13 hours. We passed the time by sleeping fitfully, eating two full meals and playing around with the personal entertainment systems. I watched Twilight Saga: Eclipse and two episodes of Modern Family.
When we finally landed in Australia, the last thing we wanted to do was get on another 4 hour flight to get to our final destination, Darwin, but there was no avoiding it. We got to Darwin around noon, checked into our hotel, and seriously wanted to crash. But we had promised ourselves that we'd stay up until bedtime to try and avoid jet lag. We walked around Darwin a bit and had dinner, then went to bed at 7:00, which was as long as we could stand it.
Our tour bus picked us up at 6:00am the next morning for our 3-day camping "safari" in Kakadu National Park. Our guide was a nice middle-aged man named Kerry and the only other couple on the tour were an older Canadian couple named Carol and Wally. Wally did NOT smell good.
I knew it was going to be a long three days.
There was supposed to be a family from Scotland on the tour as well, but one of their two sons had gotten sick so they had to cancel. (They actually ended up joining us later on in the tour though.)
This was our ride:
After a two hour drive from Darwin to Kakadu National Park, our first stop was an Aboriginal rock art site called Ubirr. Kerry explained all of the rock art to us, along with information about Aboriginal history and culture, and then we climbed to the top of Ubirr for some awesome views.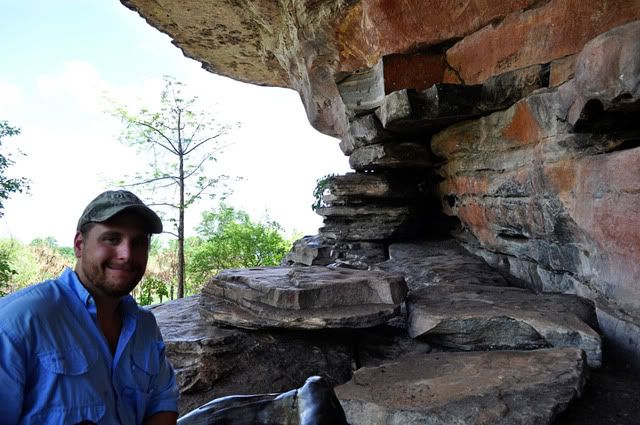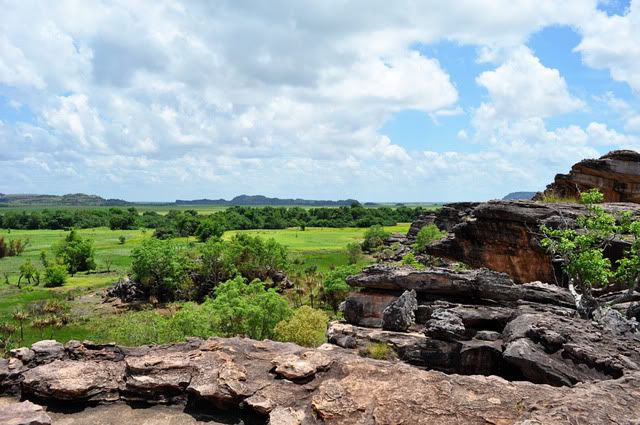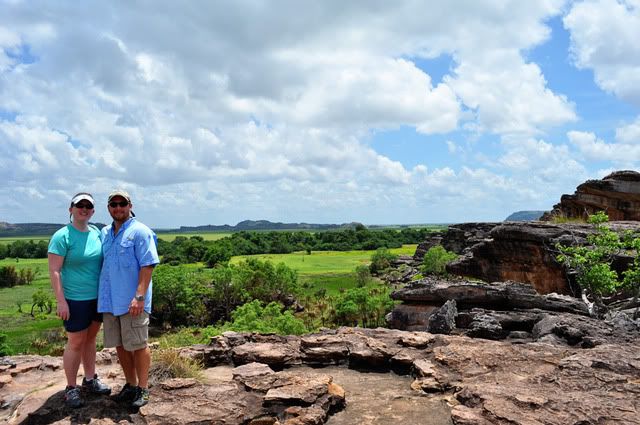 We stopped beside the South Alligator river to see if we could spot any crocs (the river is erroneously named, there are no alligators in Australia, only crocodiles). We didn't see any crocs but saw something much more interesting -- this road train crossing this river:
Road trains are 18-wheelers with multiple trailers attached to them. They're pretty scary when you pass them at high speeds on a two-lane highway. Anyway, this one was crossing the river and we were fascinated. In this part of Australia, they have a dry season and a wet season. October (which is their Spring) is supposed to be the very end of the dry season, but this year the wet season had come early and a lot of the roads and areas were flooded earlier than normal.
The entire camp where we stayed gets completely flooded (under about 6 ft of water) during the wet season. It was amazing to think that the camp and most of the places we were visiting would be completely inaccessible and under water in just a couple of months. And that each year the water recedes and things go back to "normal." I should also mention that the beginning of the wet season means the beginning of the heat as well and it was HOT. Like highs of about 95 and very humid.
Anyway, because of the severe wet season in the Northern Territory, almost every truck and SUV you see has a snorkel on it. We first noticed this is Darwin, and then when we got to Kakadu and learned about the wet season we realized the purpose of them. Here's a regular truck with a snorkel crossing the river. You can also see the marker that indicates how deep the water is, so vehicles can judge whether they're able to cross or not:
On our way to the next rock art site, Nourlangie, we saw this little gal, a female black wallaby (there are no kangaroos in northern Australia, only wallabies, which are basically smaller kangaroos):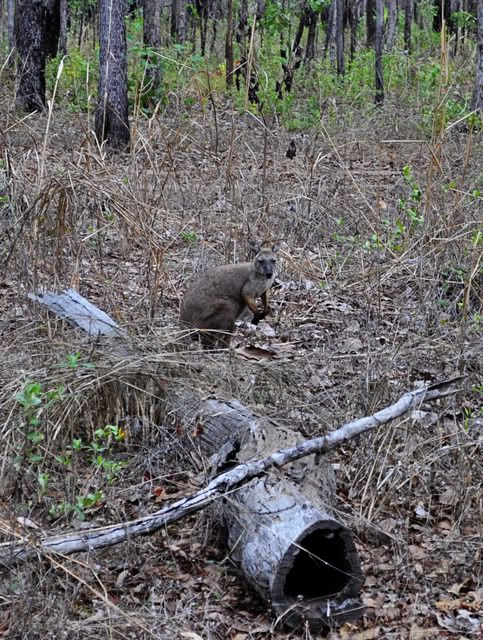 Nourlangie: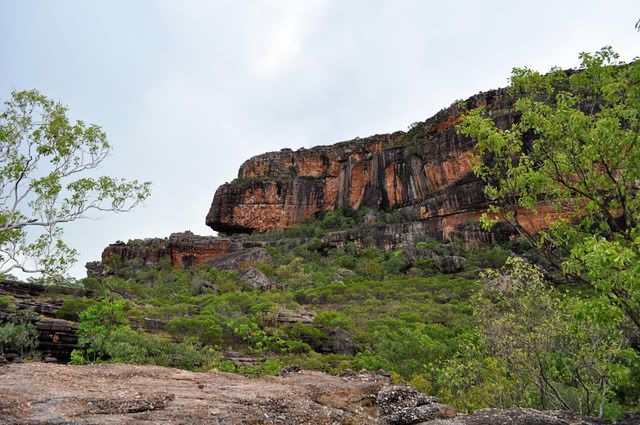 Then it was finally time to head to camp.
Kakadu Culture Camp
is run by an Aboriginal woman named Jenny and her white husband Andy. Jenny's brother Dougie also helps out. Jenny and Dougie were very reserved and quiet, and Andy was all over the place. You can definitely tell he runs the show, but puts Jenny and Dougie up front for their "cultural" appeal.
Anyway, this was our "deluxe eco safari tent":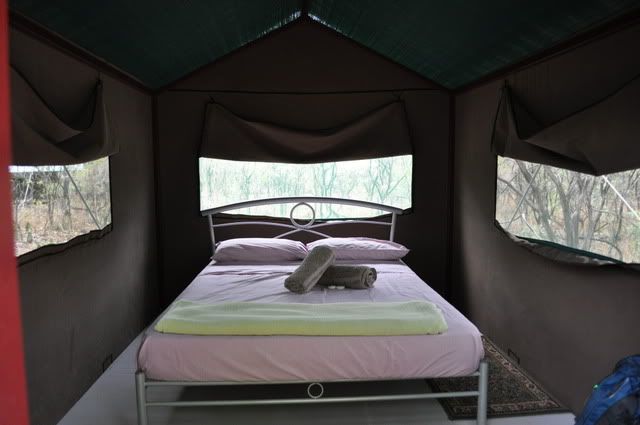 It was actually pretty cozy, and would have been totally acceptable accommodation if it hadn't been so hot. Sleeping in the tent, with obviously no air conditioning or fan, when it was a sticky 80 degrees outside (and inside) was not really my idea of a perfect night's sleep. But we were so worn out from the activities of the day that we still managed to sleep pretty well.
So back to Day 1. We arrived at camp, got settled into our tent, took a shower (at the public campground showers) and then it was time for the Aboriginal cultural demonstrations. Andy talked to us about crocodiles, Jenny talked to us about women's matters like basket weaving and cooking and Dougie taught spear throwing and how to play the didgeridoo.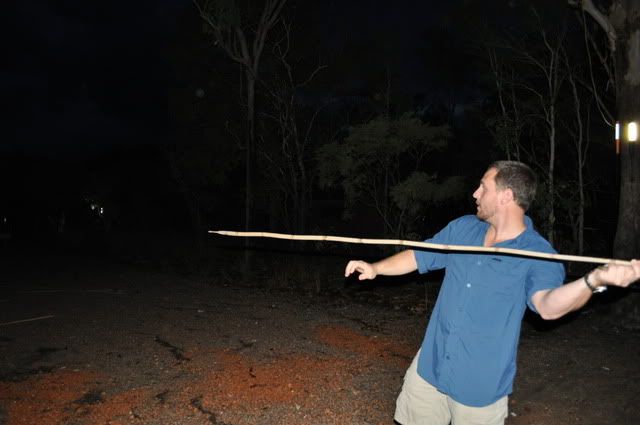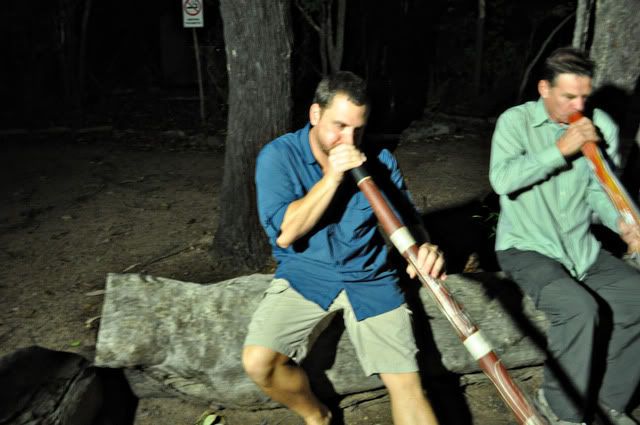 I should take a moment here to mention the bugs. All of Kakadu was infested with these gnat-like bugs that were focused solely on one thing -- getting in your ears or up your nose. We were constantly swatting and fanning and no amount of bug spray helped. I'm not sure which part was worse, the heat or the bugs.
Anyway, next up was the nighttime crocodile cruise. The camp is situated on a billabong, so we hopped on a boat while Dougie drove, Jenny used the spotlight to spot crocs, and Andy filmed the whole thing for marketing purposes. He was first and foremost a businessman, and was more concerned with that than being a host, and we quickly got irritated with him.
We saw a few crocs, some birds and a snake, but by this time it was 9pm and we still hadn't eaten dinner, so that was pretty much the only thing on our minds. Finally we got back to the camp and dinner was served -- buffalo stew (like beef stew) with rice. It was actually pretty good, or maybe that was just because my stomach was eating itself by that point.
We headed to bed and then woke up somewhat refreshed for day two. After a gourmet breakfast of toast, we left camp and headed to Gunlom Falls.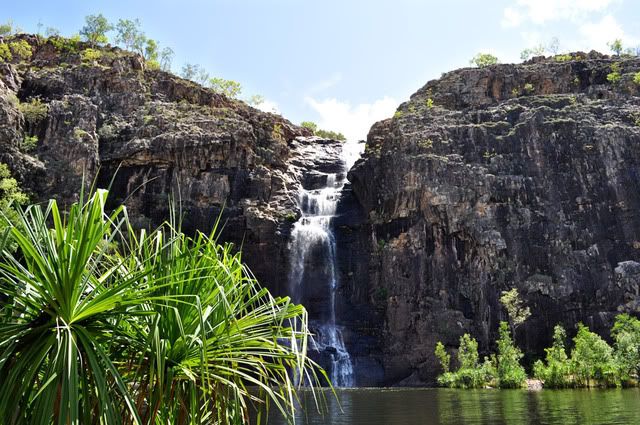 Although we had been lectured on the dangers of crocodiles for two straight days, Kerry told us it was ok to go swimming in the pool at the base of that falls.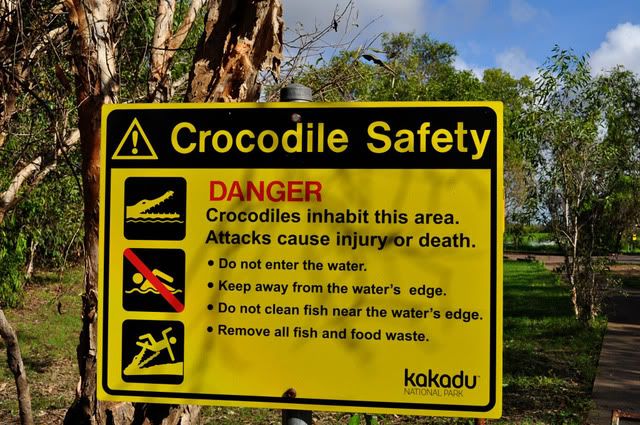 It didn't escape us that Kerry didn't join us in swimming, but we were too hot and the water was too refreshing to care. Can you spot Lee?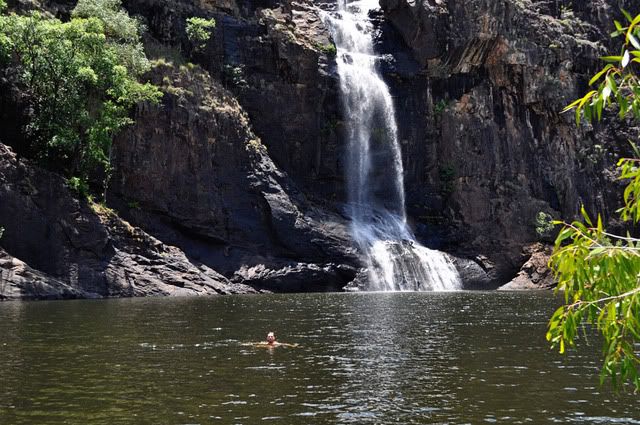 After a picnic lunch, we hiked to the pools at the top of the falls to go swimming again. It was a long, very steep climb, and very very hot. I was thinking there was absolutely nothing that could be worth that hike, and then I saw this:
It was breathtaking. Sort of a natural infinity pool with amazing views all the way around. There were smaller falls there too: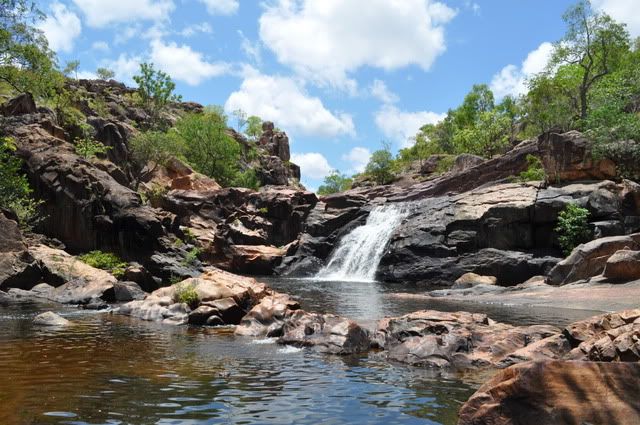 This was the second most beautiful place I have ever been (the first was to come later in the trip). We swam and lounged for a few hours and then reluctantly headed back down the mountain and back to camp.
Here's a picture of the "mess hall" at camp:
As I said, the whole camp gets flooded during the wet season, so everything is temporary. Every year, Andy packs everything up and drives it to higher ground, and then brings everything back to set up for the next dry season. I would not want that job.
Dinner on Day 2 was barramundi (fish) and more buffalo, but grilled like steak this time, with french fries (called chips) and coleslaw. Again, not gourmet, but edible.
Day 3 was our cruise of the Yellow Water Wetlands.
We saw some amazing wildlife and this is where our new zoom lens came in super handy.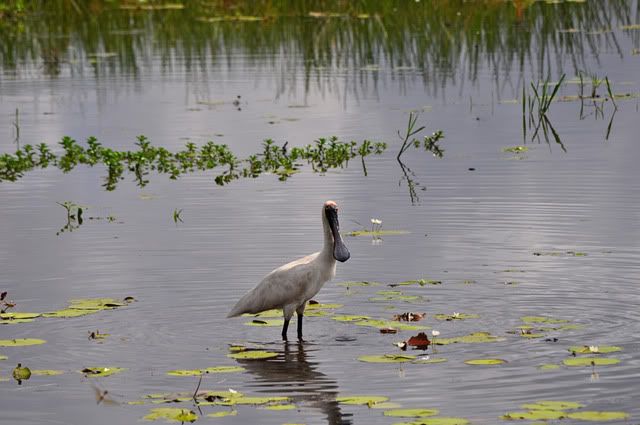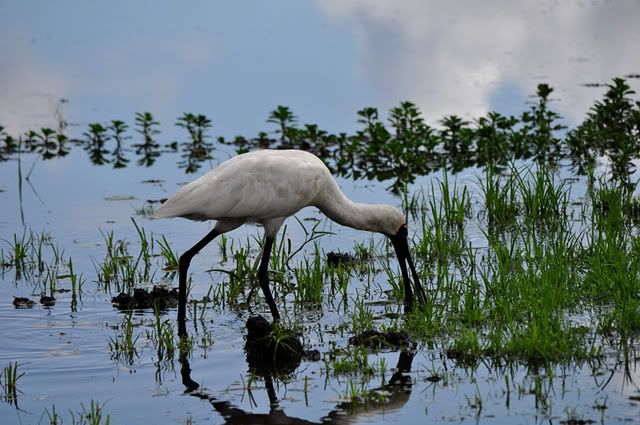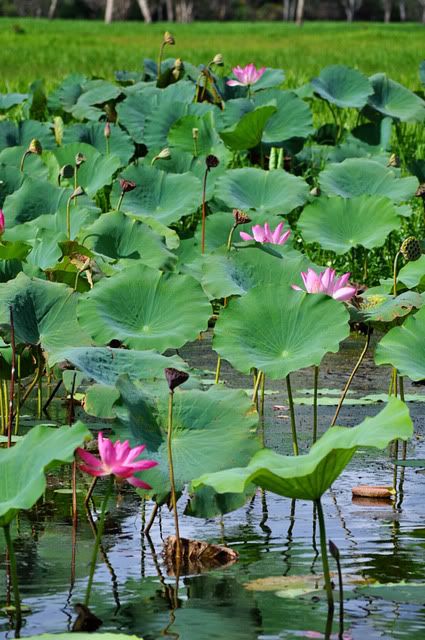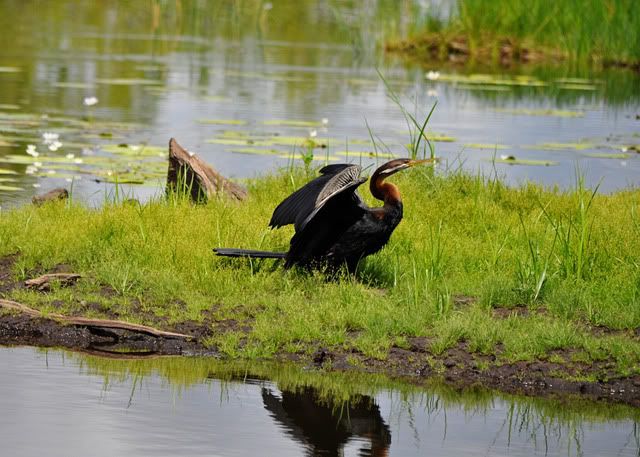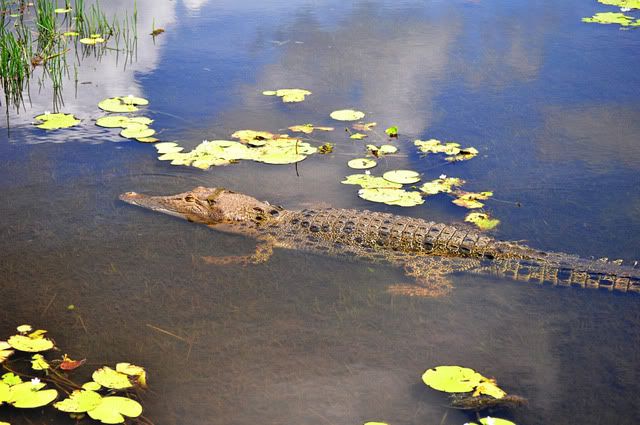 Aside from the wildlife, it was an absolutely gorgeous day. Blue skies with puffy clouds, and perfectly still water that reflected the beautiful sky.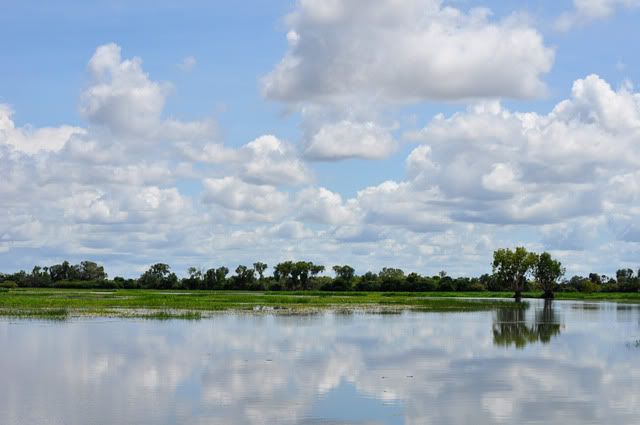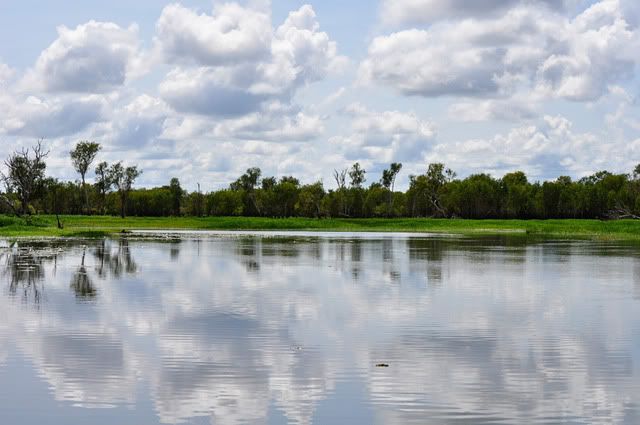 The cruise was followed by a visit to an Aboriginal cultural center/museum and then a long hike to the secluded Gubara pools where we swam again.
I'll spare you the details, but our trip back to Darwin was disastrous. We were supposed to be back in Darwin by 6pm but instead finally made it back at 10pm. After dinner from McDonald's we fell into (our air-conditioned) bed for a short snooze before our 5am wake up call. We were off to the airport again, to leave Darwin and Kakadu behind forever.
We had seen some amazingly beautiful sights, but honestly, with the bugs and the heat, I was ready to get the hell out of there. And get out we did.