Thanks for being so patient with me, it wasn't nice of me to leave you hanging for so long. But I'm UBER excited to tell you about the next leg of our trip -- Heron Island. Be warned: you might get sick of all the beautiful blue in the following pictures.

Our trip to Heron got off to a bit of a rocky start. You see, Heron is an island resort on the Great Barrier Reef that is only accessible via boat or helicopter. We were to get to Heron via their boat, the Heron Islander.




Looks pretty nice, huh?

It should have been renamed the Vomit Comet.

Guys, the water was SO rough. It's a two-hour boat ride, and even though the boat was pretty big, everyone got so sick. The staff was great, passing out cool rags and ice chips, but it wasn't enough to keep me from finally tossing my cookies just 5 minutes before we got to the island.

During the ride you're thinking "what could possibly be worth this god awful boat ride?" And then you get to Heron, and you understand.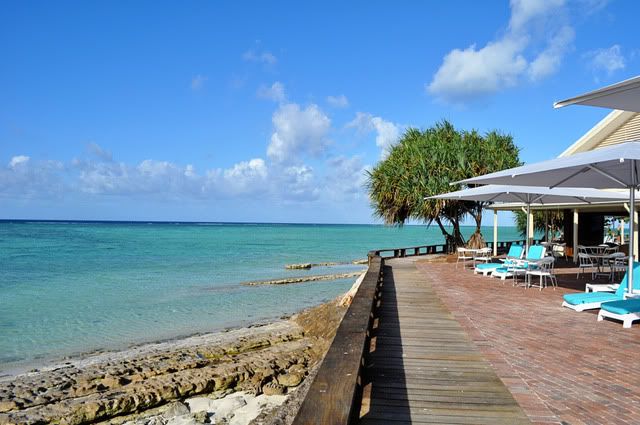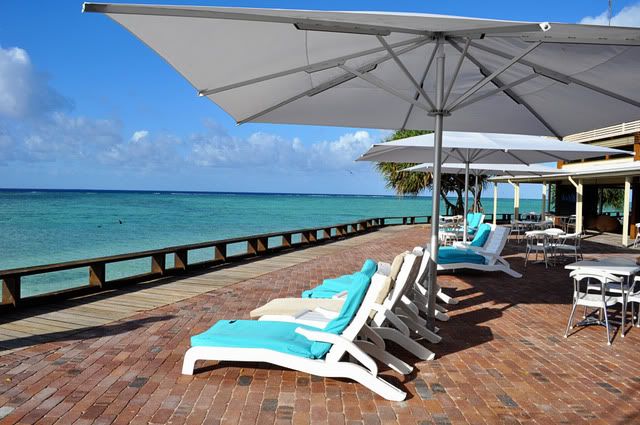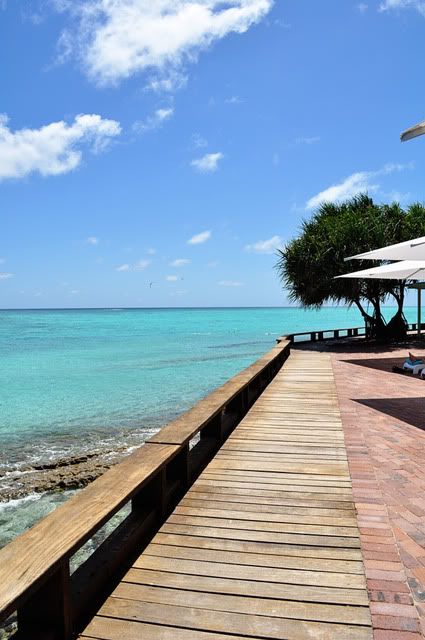 It's just beyond beautiful. I've never seen blue like that before. You just couldn't get used to it. Every time we walked out of our room, and saw that blue water, it took my breath away.

Heron is fairly small, and the only thing on island is the resort (with guest rooms, a restaurant, a pool and bar, and a dive shop) and a research station run by the University of Queensland.

There are no phones or TVs in the rooms, no locks on the doors and everything you buy is charged to your room, so you never have to keep up with a room key or cash.

Our room (a "turtle room") was super cute and quaint, with its own porch.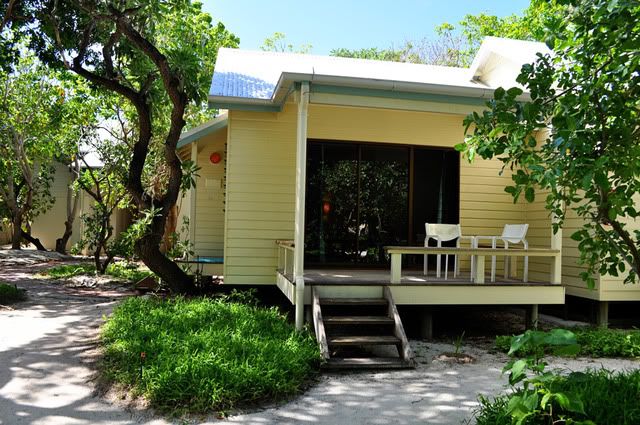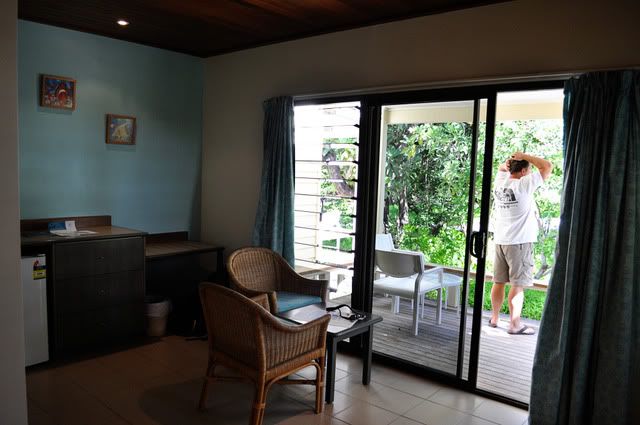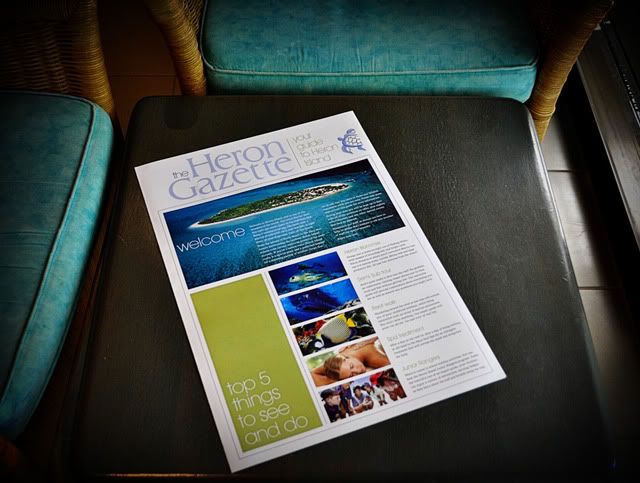 After settling in, we took a walk around the island.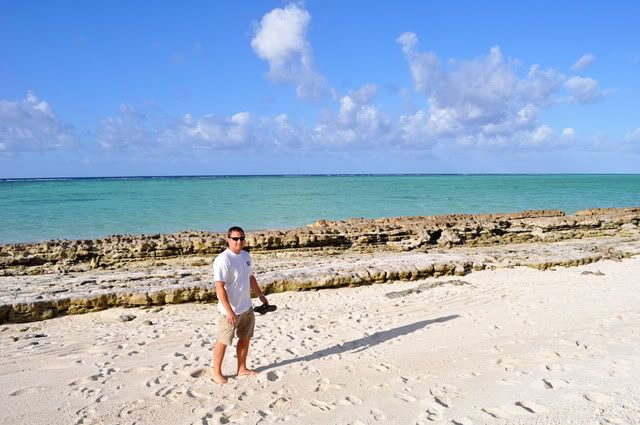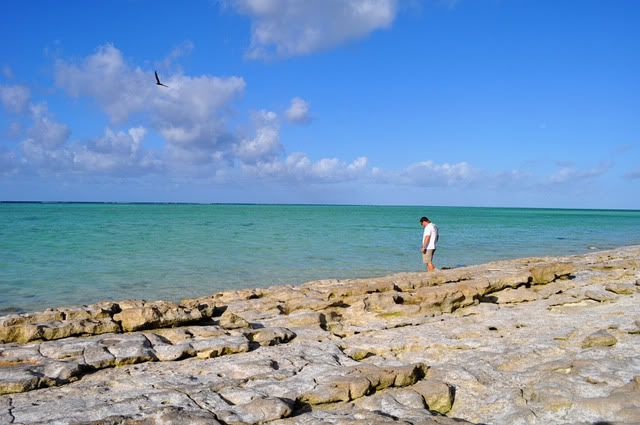 We had our first ray sighting: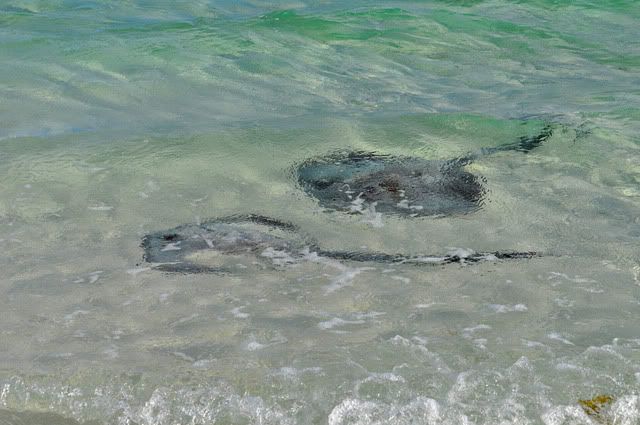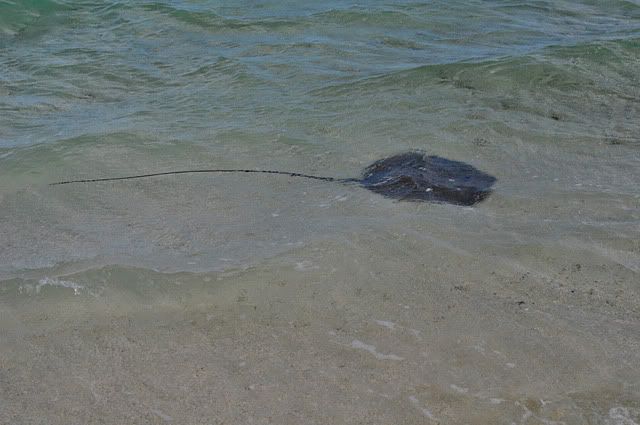 At any time on the island, you could go to the water's edge and spot rays, sharks or sea turtles.
Even the jetty was beautiful: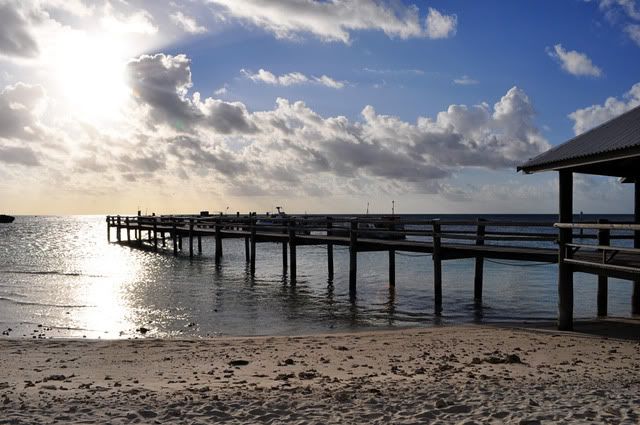 Then of course we had to hit up happy hour:




After showering, we headed to dinner. Dinner on Heron each night was a 3-course meal from a set menu, and was honestly a little too fancy for our taste. But we made up for it during breakfast and lunch, which were served buffet style and were delicious. After dinner, we headed to bed early to rest up for a day full of snorkeling, sun and fun.

Unfortunately, we woke up to pouring rain. And it stayed that way pretty much all day: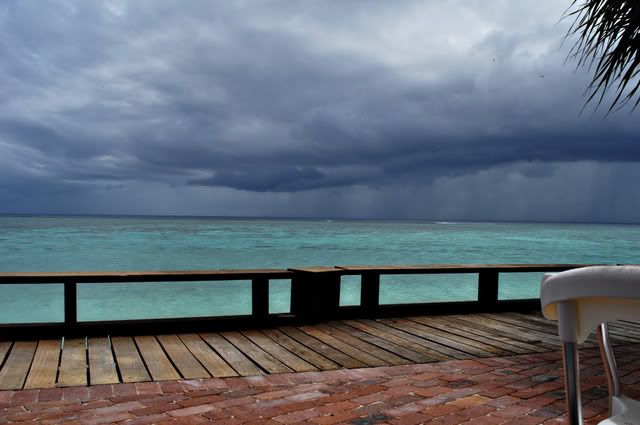 We were super bummed, especially since we only had 2 full days on the island, but tried to make the best of it. We went snorkeling, even though the water was COLD (thank goodness for wet suits). Since Heron is literally on the Reef, you can just swim off the beach (at high tide) and do some pretty great snorkeling, like swimming with this fella: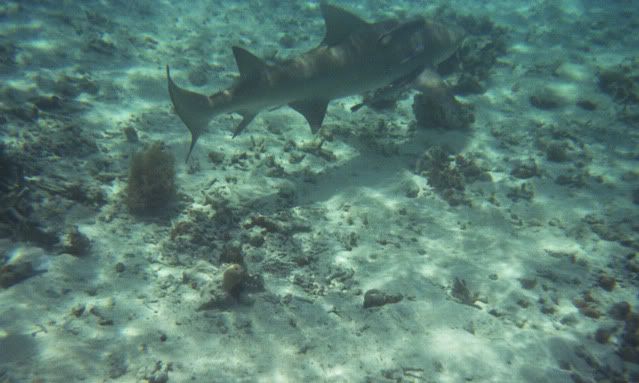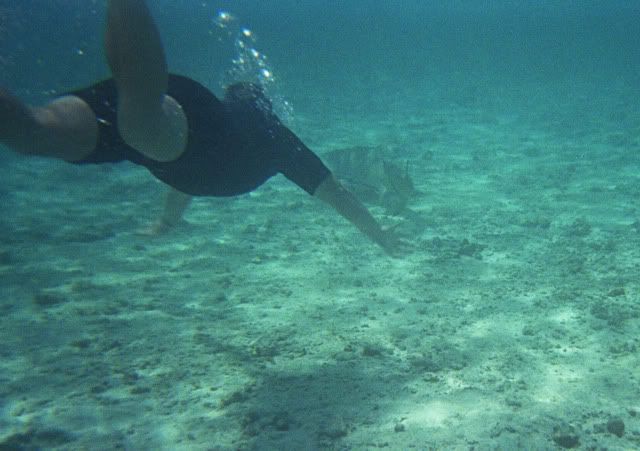 During low tide, we went on a reef walk, where you can use viewing tubes to look at the reef life.




The rest of the day was spent reading (I got so sucked in by The Hunger Games -- have you read the series yet??) and just generally lounging around and being bored. Heron is all about being outside, in the water and enjoying the island, so when the weather doesn't cooperate there isn't much to do.

So you can imagine our excitement when Day 3 dawned bright and blue.




We took full advantage with more snorkeling (with a shovel-nosed ray!, an eel, and some bright blue starfish)...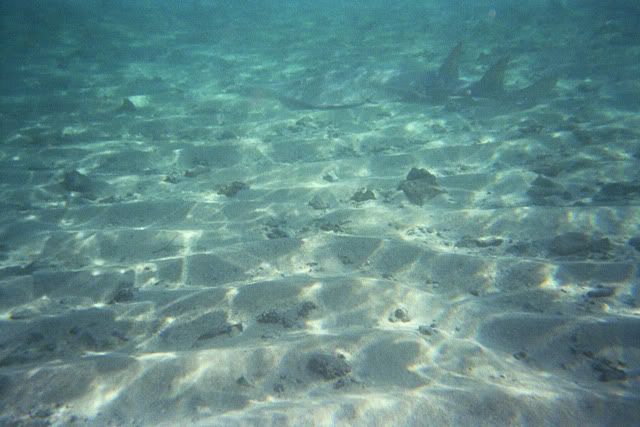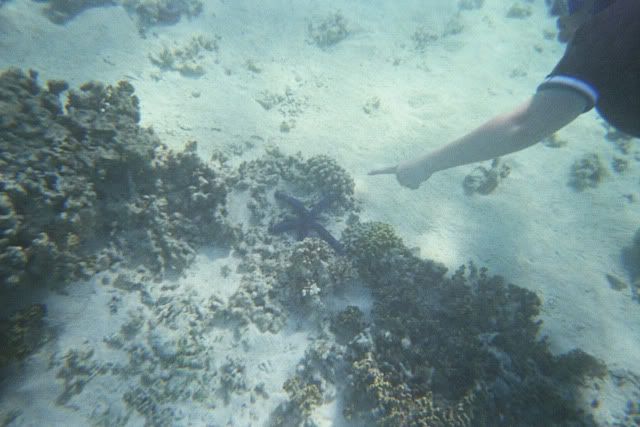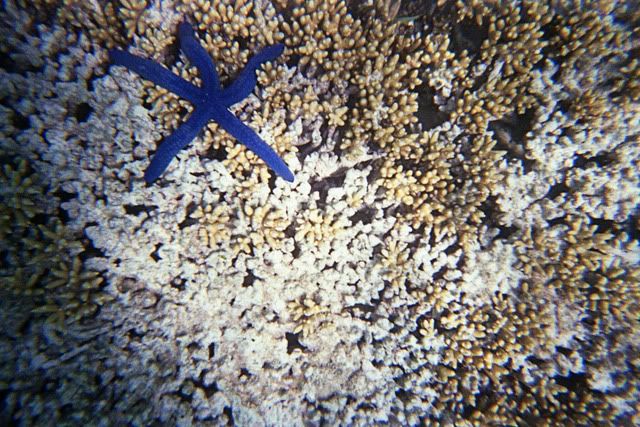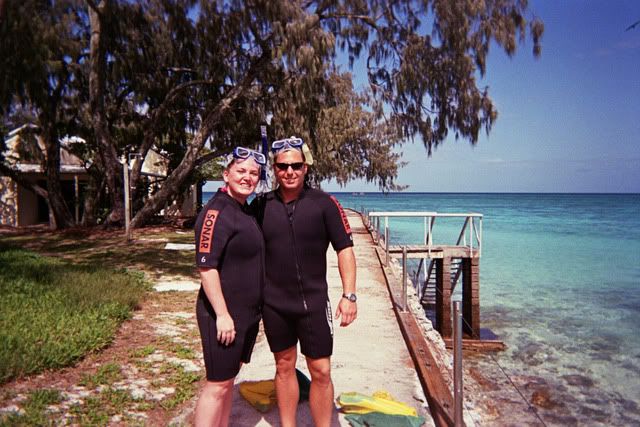 And an afternoon of sunbathing on the deck...




And ended the day with a fantastic sunset...
A few more random shots from Heron: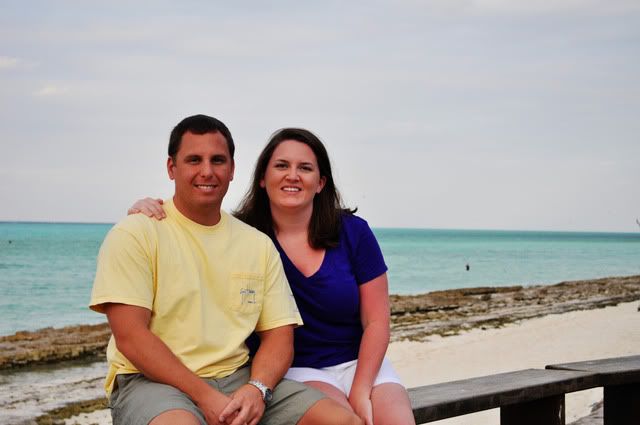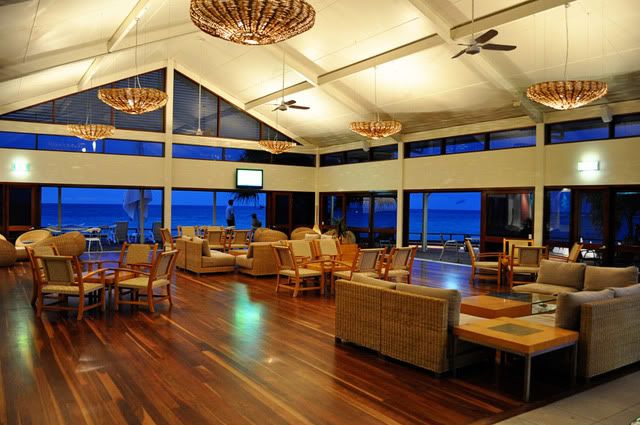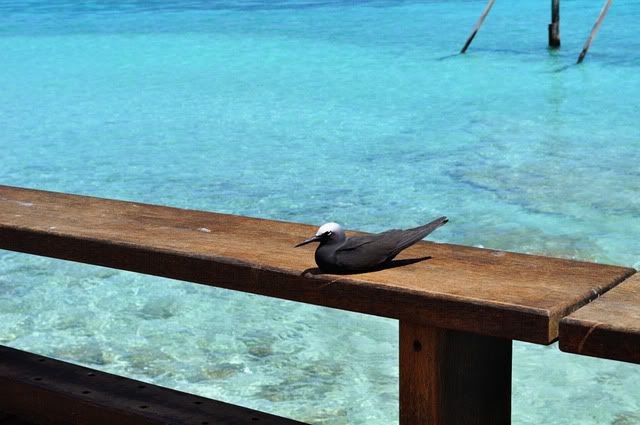 And I can't leave our time on Heron without telling you about the birds. They were everywhere. The black noddy terns (above) were nesting all over the island and little brown chickens begged for your food on the pool deck. But these were nothing compared to the mutton birds, who flew in to the island at night to nest.
There were earplugs in every room, and we soon found out why. Those mutton birds sound EXACTLY like crying babies, right outside your door. It's so creepy. They'd tune up around 2 or 3 every morning and they were LOUD. But it was nothing the earplugs couldn't solve, and even though I'm still not a big fan of birds, the birdlife definitely added to the natural, unspoiled feel of the island.
But all too soon, our time on Heron was up. Because we were leaving on a Saturday, our travel agent had to book us on a helicopter flight for our return trip, so we wouldn't miss our flight back to Brisbane. Even though it was MUCH more expensive than the boat trip, we had heard it was an awesome experience and worth the extra money. And after the nauseating trip to get to Heron, I was SO glad not to have to get on that boat again.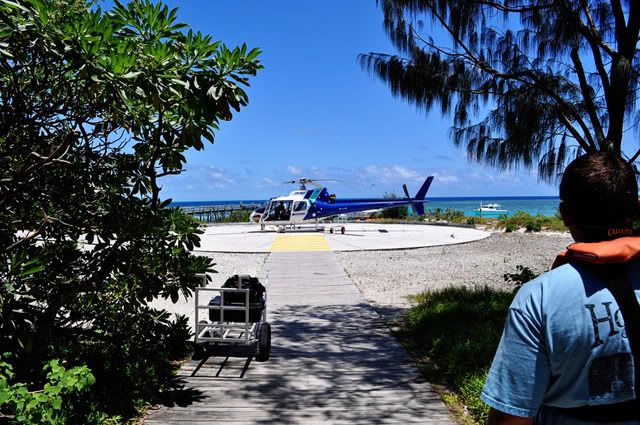 The heli ride turned out to be by far our favorite experience of the whole trip. We had never been in a helicopter before, so that in itself was cool. I'm sure any scenic helicopter ride would be great, but I'm not sure anything can compare to a helicopter ride over the Great Barrier Reef.
It was magical.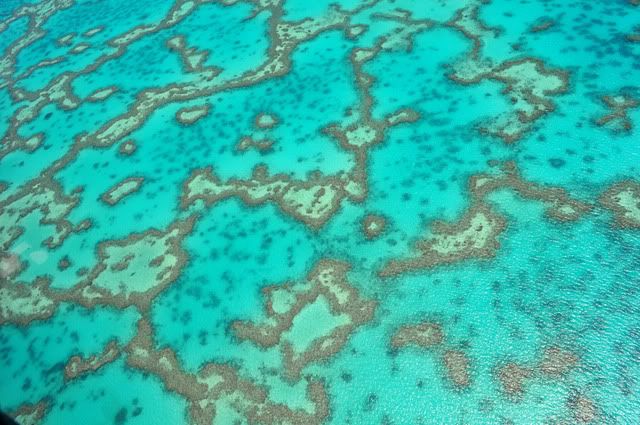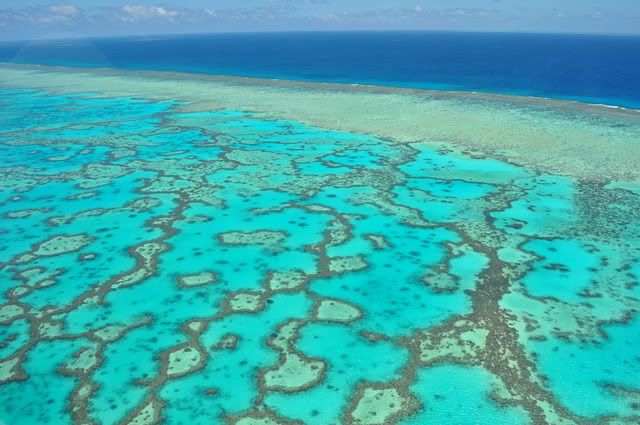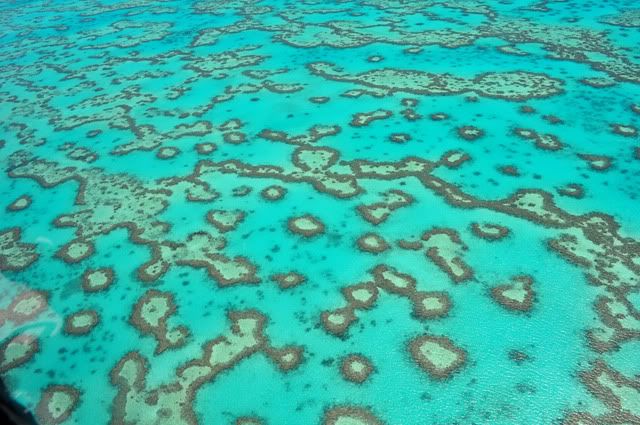 Our pilot was great. He explained what we were seeing the entire time and took us "cloud surfing," which he compared to being on a magic carpet ride. It was a bit dizzying but absolutely amazing.
And then we smiled and waved at the Heron Islander down below and thanked our lucky stars that we weren't on that boat:
All too fast, the 30-minute ride was over and we were headed to our final destination -- Brisbane. More on that later (and I promise not to make you wait so long this time).