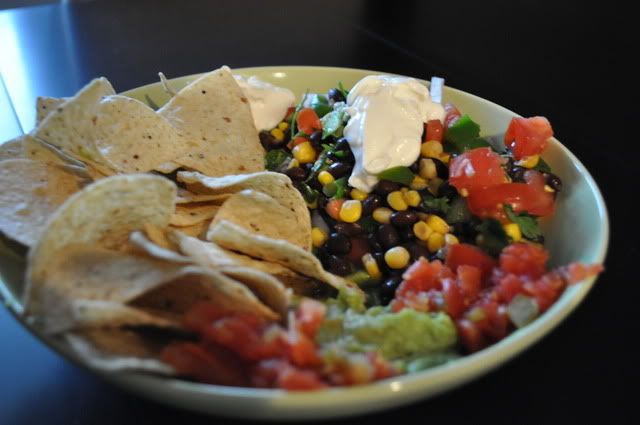 Black bean salad is one of our go-to weeknight meals. We make it at least once or twice a month. And I always take leftovers for lunch the next day. It's pretty much the only meatless meal that Lee will consider an actual meal.
And it's pretty darn healthy. I have no idea how many calories is in it (the tortilla chips and sour cream don't help), but eating all those veggies makes me feel good.
There are lots of different variations, but here's how we make it:
2 cans of black beans, rinsed and drained
1 can of corn kernels, drained
1 or 2 bell peppers (any color), diced
1 avocado, diced (optional)
A healthy splash of lime juice (my splash is more like a steady pour)
Just throw everything into a bowl and stir. Serve with tortilla chips and sour cream. In this pic, Lee has also added salsa and guacamole to his bowl.