The second room in our house that I'm willing to declare complete is our master bedroom. It underwent a serious makeover over Christmas break and now that I'm looking back at the Before pictures, I think it's safe to say that it was a long time coming.
Oprah always says that your house should "rise up to meet you." I'm not entirely sure what that even means, but I am sure that our bedroom was NOT rising up to meet us. Here are some befores:
When we moved in, we transferred everything I had in my apartment bedroom into the master. Which left us with only one nightstand -- eventually Lee got sick of that and repurposed a TV tray as his nightstand. Pitiful, right? And while I loved the Nautica Highland bedding in my apartment, it just didn't scream "warm and cozy master bedroom retreat" when we put it in our house. Oh, and one whole wall adorned with nothing but a Tupperware tub and a $10 mirror? Niiiiice.
Our first order of business was installing crown molding. We thought it would be a simple little project that would be fun to tackle.
Umm, WRONG. I'll spare you the gory details but let's just say there was lots of math and ladder-climbing involved. But two days and lots of curse words later, the crown molding was successfully installed.
Painting was another two day project (we did the bathroom as well) but it was actually pretty enjoyable. Then came the really fun part -- playing with all the new stuff we had bought and seeing it all come together. Here's where we ended up: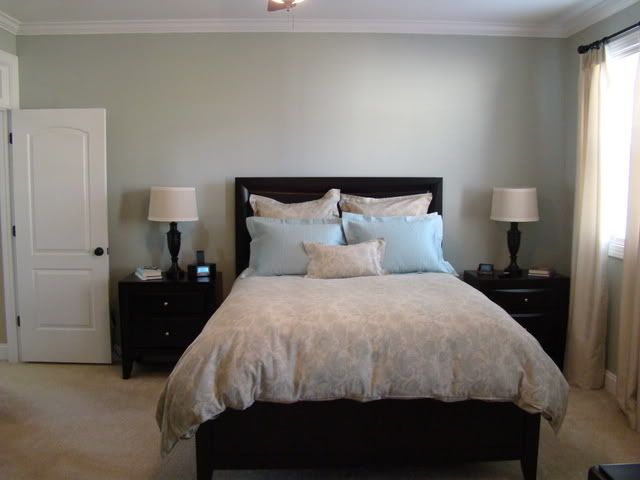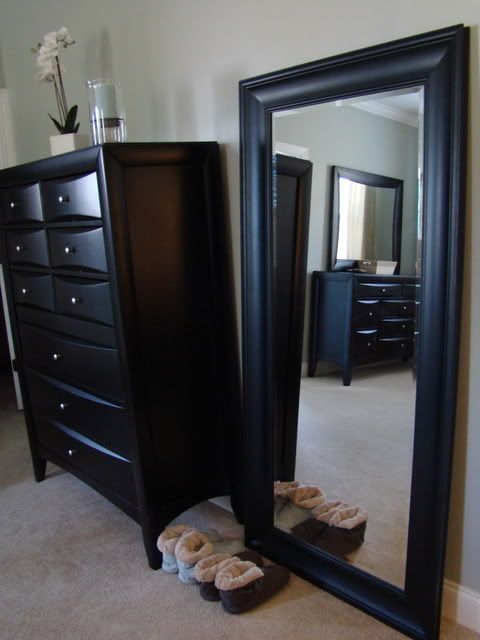 I'm actually glad it took us so long to get around to decorating our bedroom because it gave us time to live in the room for over a year and see what we needed to make it functional. We knew we needed a proper nightstand for Lee and more dresser space (luckily Rooms to Go still carries this furniture line so we just ordered the two new pieces). And I also knew that I wanted a chair or bench in the room as I was having to go into the living room every morning to put my shoes and socks on.
And although I was opposed to having a TV in the bedroom, living in our house for a year with only one TV downstairs totally convinced me that we needed another. I'm so happy that we made that decision -- I love watching the news in there every morning and banishing Lee to the bedroom TV when I want to watch something on DVR other than Survivorman. Plus, we were able to mount it on the wall and Lee worked his magic to relocate the cable and electrical outlets so there were no messy cords hanging down, so I think it looks pretty chic in there.
Here's a rundown of the goodies we used:
Wall paint: Silver Sage, Restoration Hardware

Furniture: Rooms to Go Valencia collection

Chair: Dolce Lounge Chair by Target

TV: 32" Sony BRAVIA

Duvet cover, euro shams, boudoir sham: Italian Antiqued Floral in Eucalyptus, Restoration Hardware

Regular shams: Diamond Matelasse in Silver Sage, Restoration Hardware

Lamps: Target

Curtains: Bed, Bath & Beyond

Curtain hardware: Lowe's

Orchid, candleholder: Target

Candle: Restoration Hardware

Mirror: Home Goods

Light switch plates and outlet covers: Lowe's
So now, our bedroom not only rises up to meet us, but it gives us a shoulder rub and says "come in, put your feet up, can I get you a glass of wine?"
Now that's more like it, room.