Christmas was a doozy this year. Maybe that's why it's already January 8th and I'm just now getting it together enough to blog about it?
First, let me start with our Christmas card, since I never got around to sharing it with you.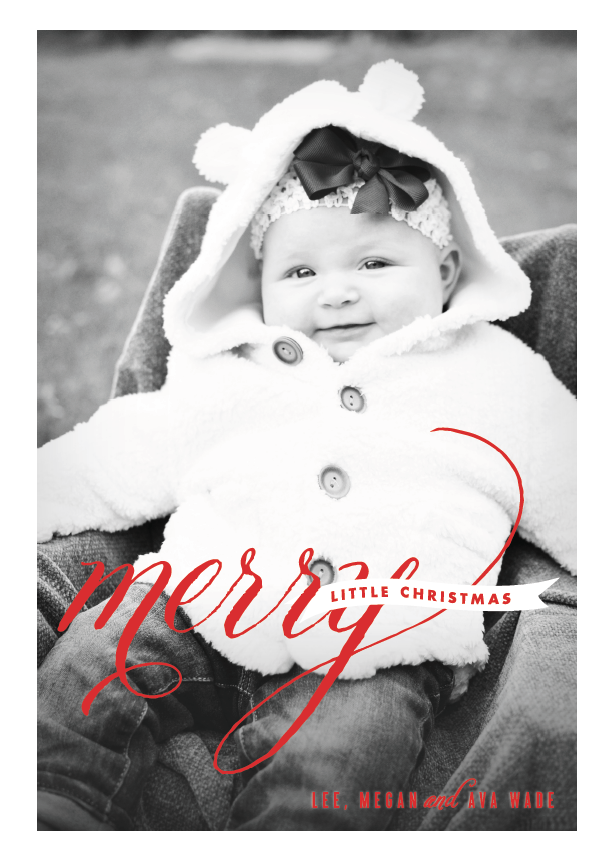 I ordered them through
Minted
and was so pleased with how they turned out. The quality was impressive (super thick paper) and their customer service was great to work with.
I'm not going to lie though, I was not pleased with how Christmas turned out. In fact, it kind of sucked.
First, Lee got the flu two weekends before Christmas, and it took him a good two weeks to fully recover. Then Ava got RSV just days before Christmas, which was so so scary. We were lucky that she never had to be hospitalized, but we did have a few scary nights of labored breathing and she ended up on breathing treatments and a steroid. Then I got it as well. Sick mama + sick baby + dad who's still not 100% = not fun.
Then (yes, there's still more "then's") I had a random medical issue pop up (totally unrelated to the RSV) which landed me in the emergency room on Christmas night and then undergoing surgery three days later. Being out of commission and not being able to care for your child + managing pumping/breastfeeding on top of surgery and recovery = not fun.
Over a span of 13 days, between Ava and myself we had 10 different trips to the doctor's office, ER or hospital.
BUT, in spite of all that, we did still manage to celebrate Christmas and spend time with our families. Just in a much different way than I imagined.
Let's start with Ava's gifts. Santa came to our house a few days early (since we'd be traveling) and he was very good to her.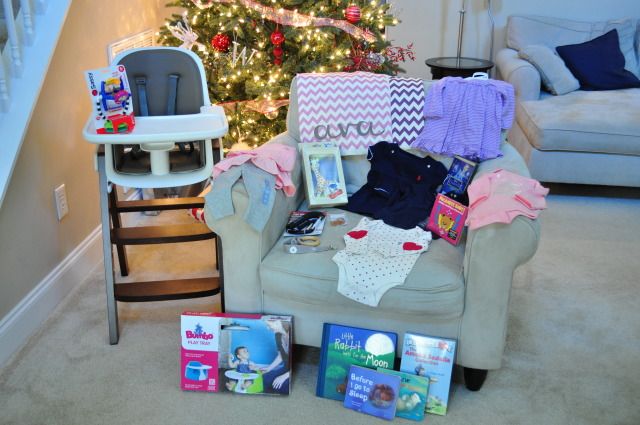 Her big item was a high chair, accompanied by clothes, books, blankets and a few toys.
We did Christmas Eve with Lee's family, where she posed on her Pa's lawn tractor:
And then with her cousins:
And we opened gifts.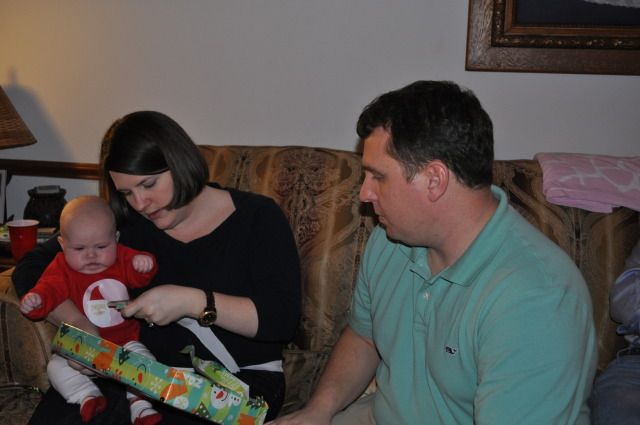 The best family shot we could manage with both me and her not feeling well:
Ava with her Granny and Pa: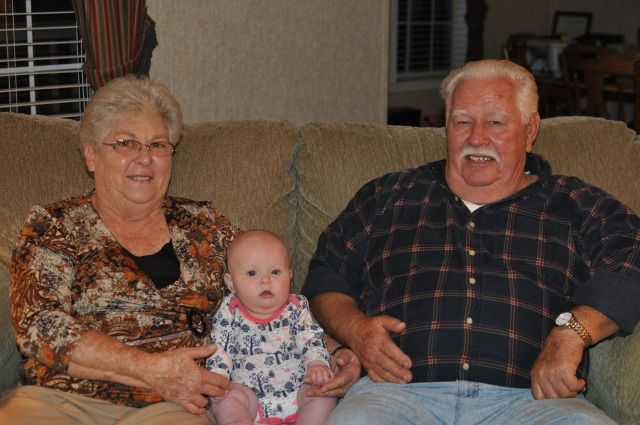 On Christmas day we opened gifts with my family and then did lunch and gifts with my dad's side of the family.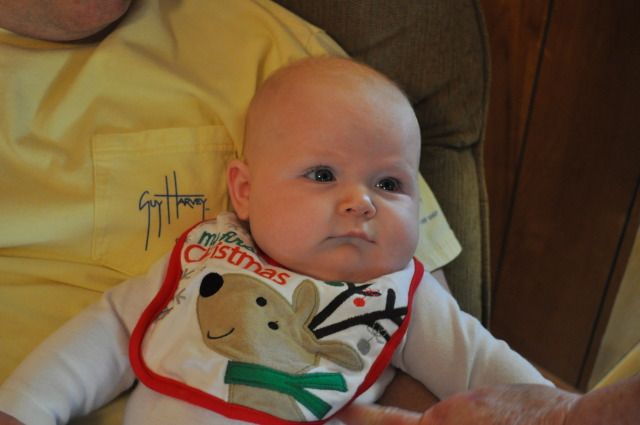 Still not feeling well, but trying to make the most of it: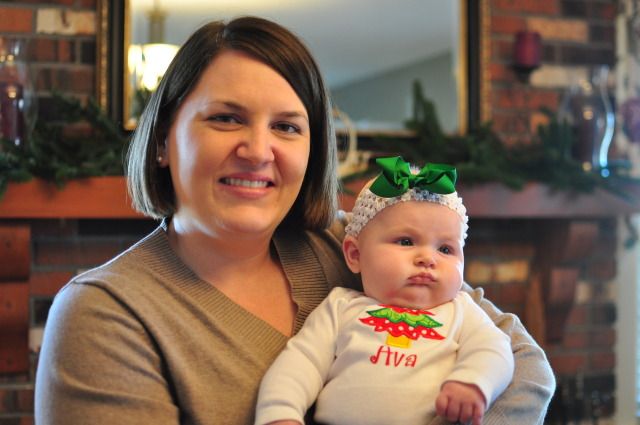 With her Gram: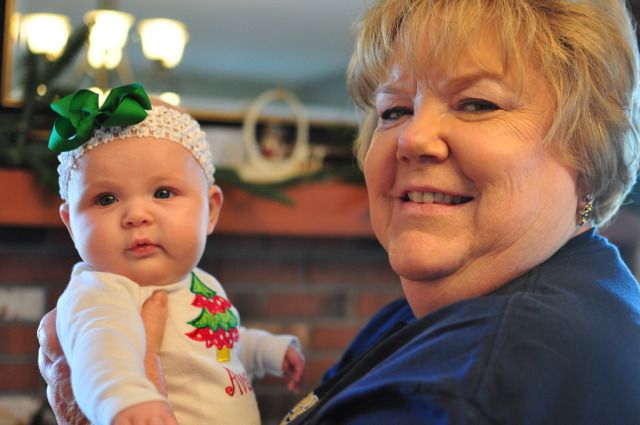 Intrigued by the tissue paper: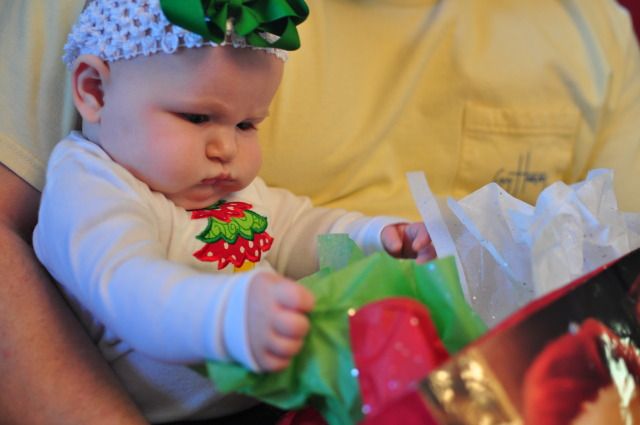 Hand-stitched quilt from her Giga: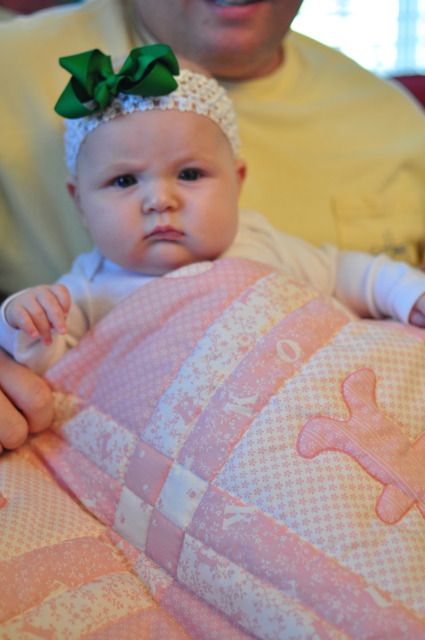 And finally, worn out by Christmas!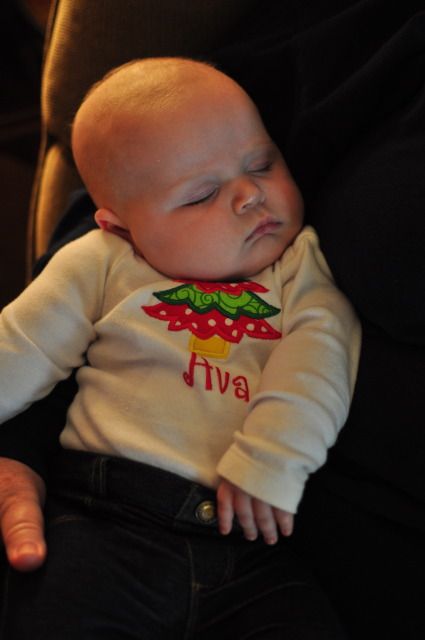 I don't have to tell you that she was totally spoiled from all sides and got some amazing gifts. And the time we got to spend with everyone was priceless, although I hope we'll be a little less under the weather next time.
We're all feeling much better now, and although our holiday wasn't ideal it made us even more aware of all the things we have to be thankful for: our overall health (you don't fully appreciate your health until something goes wrong with it), a wonderfully supportive family who's there for us in our time of need, and mostly, this beautiful, happy baby girl.