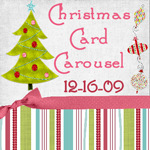 For those of you who haven't seen it, here's our Christmas card. After lots of research, I ended up ordering them from Cardstore.com.
This picture was taken on our
camping trip
back in October. I didn't post this pic then because I knew I wanted to use it for our card.
Happy Holidays from the Wades!