We've been in our house for a year and a half and we still haven't decorated. Not
really
decorated. When we moved in, I was determined to resist the urge to run out and buy a bunch of stuff to put on the walls and fill the space and to instead live by this mantra:
Have nothing in your house that you do not know to be useful, or believe to be beautiful.
That meant waiting to find the pieces I really LOVED. Which takes both time (to research what you want, find what you want and then convince yourself that what you've found is indeed actually what you want) and money (thus circling back to the time issue, to save the money to buy what you've now convinced yourself is
exactly
what you want).
Because of this, these are the rooms in our house that have remained "unfinished" for over a year: dining room, living room, master bedroom, master bath, guest bedroom, guest bath, Lee's office and my office/loft.
Now I know what you're thinking -- that's all of the rooms in your house. Well yes, it is. Almost. You see, I am comfortable enough to declare the powder room "finished." Oh, and the kitchen! There's nothing left to do in the kitchen (there was never anything to decorate in the kitchen in the first place)...although now that I think about it we could really use a nice stainless steel trash can in there. But I digress.
Because now, you see, three of these rooms are finished. Three! And over the next few weeks I'm going to show off these rooms and the others as I finish them because this is my blog and I'll do what I want. And if you're not into home decor you can just tune out those posts and tune back in for cute pictures of Sugar.
For each room I'll try to post: before pictures, after pictures, a list of resources and, inevitably, the things about the room that I'd still like to change. Because if I waited until every single detail in every room was perfect then I'd never post any of our home decor projects and you'd all be terribly disappointed.
Ok, so here goes. First up: the dining room!
And first problem: I have no before pictures. But it's ok, because the room was TOTALLY.BLANK. before we bought dining room furniture, so you're not really missing anything. Promise.
Here's the finished product: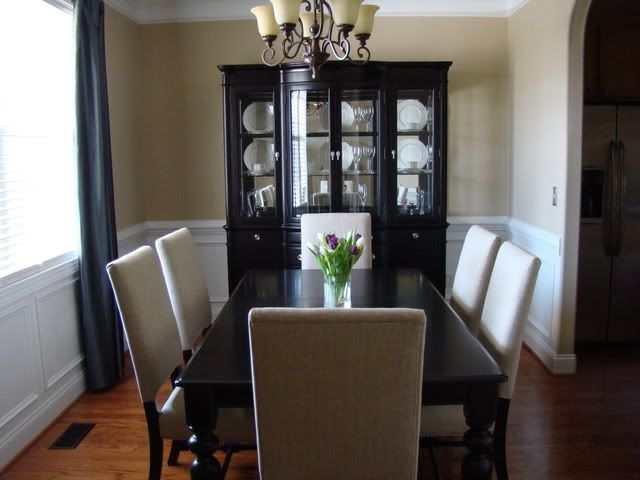 You see, it all started with this beauty, the china cabinet of my dreams:
As soon as I saw this china cabinet at Haverty's, it was love at first sight. The problem? We hated the table and chairs that went with it. The chairs were too big and elaborate and the table had what Lee called a marshmallow top, because it dented and scratched if you even looked at it wrong.
So we started the search for a different dining room set. But I couldn't get the Haverty's china cabinet out of my head, so we changed our approach. Instead, we'd try to find a table and chairs that matched the Haverty's china cabinet.
We struck gold with Bassett's custom dining table options and after running all over town with a stain sample we were fairly confident that the finish on the cabinet would match the table. And it does, almost perfectly. In fact, the turned farmhouse table legs match the bottom supports of the china cabinet for even more cohesiveness that makes it almost impossible to tell that the they're from totally different stores.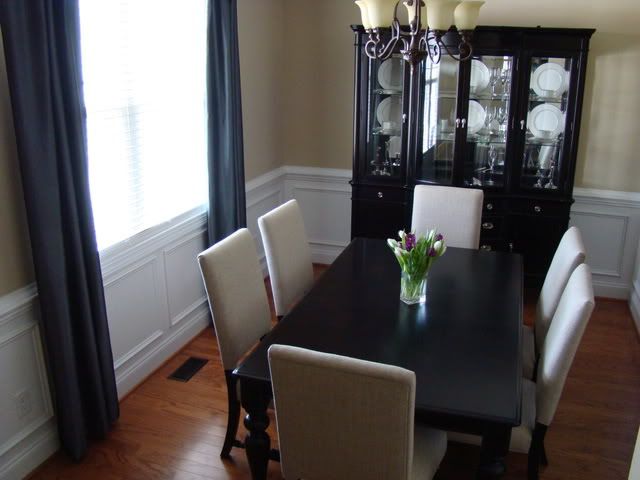 So, here's what went into the room:
- Dining table: Custom from Bassett
- Dining chairs: Harper side chairs from Bassett
- China cabinet: Copley Square by Haverty's
- Curtains: Argentina panels in Peacock from Bed Bath & Beyond
- Curtain hardware: Target
Now, what don't I like about the room? First, the chandelier. In fact, I hate it. It was here when we bought the house, and now it matches nothing in the room. Ideally, I'd buy
this
beauty:
Because ideally it would not cost $600. I haven't been able to find a suitable alternative, so I will bide my time until the right chrome/nickel chandy comes into my life.
The second missing element is a centerpiece. For now I'm throwing together seasonal centerpieces but eventually I'll need something permanent and non-seasonal.
But even with those two things, I'm declaring her DONE. I'll leave you with a few pics from our first dinner party at Christmas: